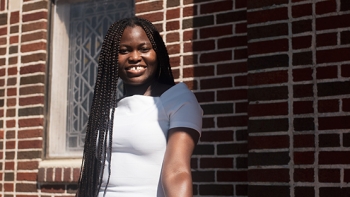 Congratulations to Pre-Health student Tomi John, who was recently crowned Homecoming Queen of 2021 and was awarded the Alumni Association Graduation Award and Grace of Ignatius Award!
Tomi chose Loyola because of its student-to-faculty ratio. When she was preparing to transfer, she knew she didn't want to be just a number or a statistic. She wanted to establish relationships with her peers and professors. Tomi says, "It has been amazing! I love the community; which is vital as a pre-health major. Whenever I look around, there is always someone who gets me. Loyola has so many organizations and communities that are intentional about students. From my  Chi Alpha fellowship, MAPS, Reslife team, SGA, the Student Success Center, advisors and friendships, I have a family away from home and they push me to keep growing and push harder."
Tomi's goal is to become a physician so that she can give back to the communities that have sacrificed so much to get her to where she is today who lack access to quality healthcare.