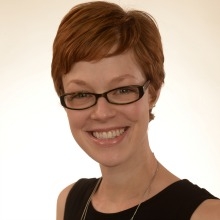 Kate Yurgil, Ph.D. joined the psychology faculty at Loyola University New Orleans in August 2014 as a visiting assistant professor and was hired as a tenure-track Assistant professor in August 2015. After receiving her B.A. in psychology in 2005 from Saint Louis University in St. Louis, MO, Dr. Yurgil earned her M.S. in psychological science from Tulane University in 2008.  She completed her Ph.D. in 2010, also from Tulane, with an emphasis in cognitive neuroscience.  Her doctoral research focused on using electroencephalography (EEG) to examine individual and age differences in attention and memory processes.  Most recently, Dr. Yurgil completed postdoctoral research training in applied behavioral health at the VA Healthcare System in San Diego, CA, where she examined the effects of combat deployment on mental health outcomes in active-duty military personnel.
Dr. Yurgil enjoys multi-disciplinary research that integrates measures of human behavior, cognition, and neurophysiology.  She has papers published on neural activity associated with auditory speech perception, working memory capacity, and selective attention, with a current focus on age-related changes in cognitive function.  Her interests in the area of behavioral health include examining risk and resiliency factors for post-traumatic stress disorder, and the effects of traumatic brain injury on mental health and neuropsychological function.  She frequently presents her work at annual meetings for Cognitive Neuroscience Society, Society for Neuroscience, and International Society for Traumatic Stress Studies.
Dr. Yurgil received the College of Arts & Sciences 2018 Excellence in Teaching Award.
Degrees
B.A., Saint Louis University; M.S. & Ph.D., Tulane University
Classes Taught
Introduction to Psychology
Research Methods
Cognition
Sensation & Perception
Sensation & Perception Lab