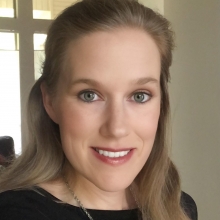 Erin Goforth Dupuis Ph.D., joined the Psychology faculty at Loyola University New Orleans in August 2008. Dr. Dupuis believes that students should be engaged and actively involved in their learning.  Her courses (listed below) often involve an engagement assignment, such as service learning. Her students have volunteered for organizations such as the Hope Lodge, Hagar's House, Anna's Art for Kids, Animal Rescue League, Habitat for Humanity, and the St. Bernard Rebuild Project. In 2012, she received the University Senate Award for Community Service. In 2016, Dr. Dupuis received the Excellence in Community Engaged Teaching Award from Loyola University. In 2012, she received the Loyola University Senate Community Service Award and in 2010, she received the Humanities and Natural Sciences Excellence in Community Service Award. 
Dr. Dupuis has presented and published research in the areas of wellness, religious beliefs, illusory judgments of control and prediction, attributions of responsibility for acquaintance rape, perceived social support in massive online gaming, and other social attitudes. She has a chapter in the text Intimate Partner Violence and has published articles including, "The Relation of Social Support to Depression in Massively Multiplayer Online Role-Playing Games", "In the Eye of the Beholder: Do Behavior, Reputation, and Individual Differences Affect Victim and Perpetrator Responsibility for Acquaintance Rape?" (cited in the Rape Investigation Handbook, 2011) and "The Effect of Paranormal Involvement on Game Strategy". She frequently presents research at conferences for the American Psychological Society, Society for Personality and Social Psychology, and the Southeastern Psychological Association.
Recent Publications
Foster, T., & Dupuis, E.C. (2020). Understanding holistic wellness from a midlife perspective: A factor analytic study. Journal of Positive Psychology & Wellbeing, 4, 105-116.
Dupuis, E.C. (2017). Acquaintance rape. In K.L. Nadal, S.L. Mazzula, & D.P. Rivera (Eds.), The SAGE Encyclopedia of Psychology and Gender. Thousand Oaks, CA: SAGE Publications, Inc.
Dupuis, E.C., & Clay, J.A. (2013). The role of race and respectability in attributions of responsibility for acquaintance rape. Violence & Victims, 28, 1085-1095.
Dupuis, E.C., Phillips, C., & Petitfils, B. (2011). Improving perceived control in homeless men by increasing computer literacy. Journal of Social Distress and the Homeless, 20, 177- 194. (Also listed on The Homeless Resource Center)
Dupuis, E.C., & Ramsey, M.A. (2011). The relation of social support to depression in massively multiplayer online role-playing games. Journal of Applied Social Psychology, 41(10), 2479-2491.
Degrees
Ph.D., Social Psychology, University of New Hampshire, 2008; M.S.T., College Teaching, University of New Hampshire, 2008; B.A., Psychology, New England College, 2003
Classes Taught
Introduction to Psychology (online and on campus)
Social Psychology (online and on campus)
Statistics and Methods (online and on campus)
Brain and Behavior
Psychology and the Law (online and on campus)
Psychology of Women and Gender (online and on campus)
Introduction to Research
Models of Human Behavior
Science of Good and Evil (online and on campus)
Areas of Expertise
Sexual Assault, Social Cognition, Prejudice and Discrimination