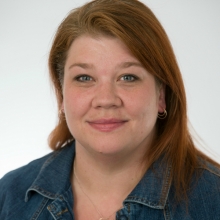 Elin Grissom, Ph.D., enjoys engaging students both in the classroom and in research settings, training students in techniques in psychological, behavioral, and neuroscientific research. 
Dr. Grissom received her B.A. in Psychology from Eastern Illinois University in 2006, followed by an M.S. in Experimental Psychology from Indiana State University in 2008. She received her Ph.D. in Psychology with a concentration in Behavioral Neuroscience from Tulane University in 2013 where she remained to complete her postdoctoral training in Behavioral Neuroendocrinology.  She was appointed as a BIRCWH scholar in 2015 and held a position as a research assistant professor at Tulane where she was supported by the National Institutes of Health.  In 2013, she was honored to receive the C. Chrisman Wilson Memorial Graduate Teaching Award from Tulane University. 
Dr. Grissom's research background includes published work with both humans and rodents, though her primary focus is in basic and translational research using rat models.  She is currently interested in the sex-specific impact of stress and gonadal hormone exposure during early life on the interaction between learning style and emotionality.  She investigates these endpoints using a rat model to examine behavior and corresponding changes in the hippocampus, amygdala and other components of the limbic system.  Dr. Grissom has also published in the area of sexual behavior and stress and is further interested in sex differences in the brain in a rodent model of post-traumatic stress disorder. Her work with humans includes published work studying saccadic eye movement during REM sleep in children with Attention-Deficit Hyperactivity Disorder. 
Dr. Grissom has presented at meetings for the Society for Neuroscience, Society of Behavioral Neuroendocrinology, Organization for the Study of Sex Differences, the International Stress and Behavior Conference, the American Psychological Association and the Midwestern Psychological Association.
RECENT & REPRESENTATIVE PUBLICATIONS
Baumgartner NE*, Grissom EM*, Pollard KJ, McQuillen SM, Daniel JM. (2019). Neuroestrogen-dependent transcriptional activity in the brains of ERE-Luciferase reporter mice following short- and long-term ovariectomy. eNeuro, 6(5). *denotes co-first authors
Grissom E, Hawley W, Dohanich G. (2019). Organizational effects of testosterone on learning strategy preference and muscarinic receptor binding in prepubertal rats. Hormones and Behavior, 110: 1-9.
Grissom, E.M., & Daniel, J.M. (2016).  Evidence for ligand-independent activation of hippocampal estrogen receptor-α by IGF-1 in hippocampus of ovariectomized rats.  Endocrinology, 150, 3149-56.
Mueller S.C., Grissom E.M., & Dohanich, G.P. (2014). Assessing gonadal hormone contributions to affective psychopathologies across humans and animal models.  Psychoneuroendocrinology, 46, 114-28.
Grissom, E.M., Hawley, W.R., Hodges, K.S., Fawcett-Patel, J.M., & Dohanich, G.P. (2013). Biological sex influences learning strategy preference and muscarinic receptor binding in specific brain regions of prepubertal rats.  Hippocampus, 23, 313-22.
Hawley, W.R., Grissom, E.M., Belkin, M.N., James, T.F., & Dohanich, G.P. (2013). Decreased sexual motivation and heightened anxiety in male Long-Evans rats are correlated with the memory for a traumatic event. Archives of Sexual Behavior, 42, 659-68.
Grissom, E.M., Hawley, W.R., Bromley-Dulfano, S.S., Marino, S.E., Stathopoulos, N.G., & Dohanich, G.P. (2012). Learning strategy is influenced by trait anxiety and early rearing conditions in prepubertal male, but not prepubertal female rats. Neurobiology of Learning and Memory, 98, 174-81.
Hawley, W.R., Grissom, E.M., Patel, J.M., Hodges, K.S., & Dohanich, G.P. (2013). Reactivation of an aversive memory modulates learning strategy preference in male rats. Stress, 16, 73-86.
Grissom, E.M., Brubaker, B., Capdevila, O.S., Hawley, W.R., Gozal, D. (2009). Eye movement during REM sleep in children with attention deficit hyperactivity disorder.  Developmental Neuropsychology, 34(5), 552-9.
Degrees
BA, Eastern Illinois University, MS, Indiana State University, PhD, Tulane University
Classes Taught
Introduction to Psychology
Developmental Psychology
Introduction to Research
Psychology of Learning
Psychology of Learning Lab
Emotion & Motivation
Psychology of Aging
Psychology of Sexuality
Fundamentals of Neuroscience