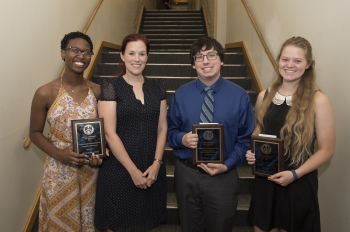 At the May 11, 2018 Honors Convocation for the College of Arts & Sciences, three psychology students received department awards.
The Dr. Gerald S. Clack Distinguished Professional Service Award in Psychology was given to Mari Nerbovig (Psychology and Music Therapy double major and Spanish minor).
The Distinguished Student of Psychology Award was given to Rodriana Edwards (Psychology major).
The Dr. Paddy Ann Doll Psychology Senior Academic Achievement Award was given to Todd Loupe (Psychology and Computer Sciences double major).