A Project of the Loyola Documentary and Oral History Studio
     Last May, 98 year-old Carmen Morial described Dooky Chase Restaurant to us as a "Haven for all of us. A place where you felt welcomed as family. A place to see and be seen.  The "us" to whom Ms. Morial referred were the people of fifth, sixth, and seventh wards. People who, for most of their lives, were not welcome in the famous restaurants of downtown. They included famous entertainers like Ray Charles and Sarah Vaughan or Civil Rights heroes like A. Philip Randolph. But most were everyday folk who circled that important anniversary, or perhaps Mother's Day on the calendar, put on their finest, and went to a place where they knew that they were appreciated. For many, it was where they had their first experience eating at a restaurant, let alone one with first rate service and tablecloths.
      We take a lot for granted today. But it is worth asking ourselves if transported to a different time and place if we would have the grace and courage to build a community around the ideas of service and personal dignity. In the decades before desegregation, the restaurant served as a locus for activism and social life in the black community of New Orleans's Fifth, Sixth, and Seventh Wards. 
A Partnership in the Classroom and the Community
      The Loyola Documentary and Oral History Studio is working in partnership with the Chase family and the broader community to record the stories of those who witnessed the restaurant and neighborhood as it was then and knew what it meant. Our exploration will continue to help uncover the way in which cultural institutions can serve as touchstones of empowerment and social progress while simultaneously telling the human story of an important era in twentieth century American history. 
      As an institution committed to innovative teaching, research, and social justice, Loyola encourages collaborative scholarship between students and faculty. For this reason, the Dooky Chase project operates squarely within the context of the classroom. Over forty-five students have come into contact with the program since it began in the fall of 2012, and it is likely that over twice than number will play some role in its completion in the next two years.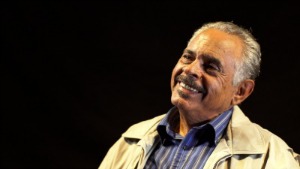 Interview with Emille Evans
    Our interviews began as part of a freshman seminar at Loyola called "Food, Ethnicity, and Community" taught by Dr. Justin Nystrom of the History Department. Working closely with Loyola alum Edgar "Dooky" Chase, III, we began the process of learning about New Orleans in the 1940s and 50s, food culture, and interview technique, all of which culminated in our first three interviews at the end of the semester. Each student learned how to perform a task from interviewing and transcribing to operating the camera, lighting a set, and recording audio. The professional look of the finished product bears witness to the care that these students brought to their work. 
Created by Work-Study student Raechel Stewart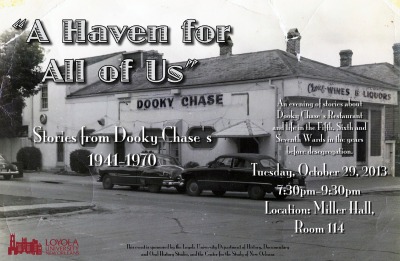 Our First Public Event
On Tuesday, October 29th, the Studio presented the product of its first year of work on this project at an event on the campus of Loyola University New Orleans. The night began with some words from Mrs. Leah Chase, who with her husband Edgar "Dooky" Chase, II were in attendance.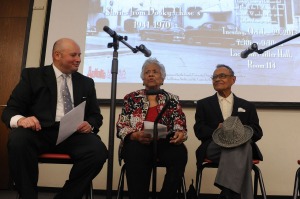 Next came a small roundtable with Loyola Freshman Seminar students who, now as sophomores, related their experiences conducting oral history interviews.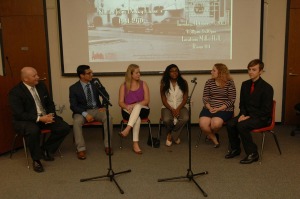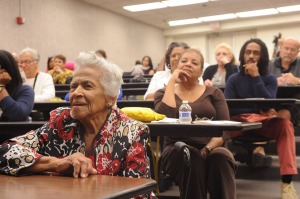 Lastly, six students from the fall 2013 History A404, "Documentary and Oral History" presented edits that they made from the interviews recorded by the freshman seminar students. These short edits were the midterm project of the A404 students, a job that helped teach them the ethical and technical considerations involved in documentary editing.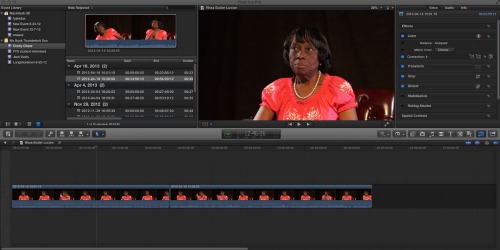 The Film Editing Process
    Our Plans for the Future: 
    Documenting and Preserving the Past  
      In the 2014-2015 academic year, we will have two more Freshman Seminars in which new students will learn the subject matter and technical skills that enable them to record additional interviews. We will also continue to interview as subjects become available. The Studio encourages members of the community with stories to share, no matter how small or insignificant they may believe them to be, to get in touch with either the Studio or members of the Chase family. 

Monroe Library, home to Loyola's Archives and Special Collections 
      All of the interviews that we film are being fully transcribed by students and will be preserved in the Archives and Special Collections in Loyola's Monroe Library. These interviews will be made available to future scholars and documentarians. Students who participated in this project are particularly excited to be part of such an enduring collection. 
The Ultimate Goal: The Feature Documentary
      We are currently seeking funding from sponsors and granting agencies that will enable us to engage in our first "summer documentary institute." Our plan is to bring together ten to twelve talented Loyola students and spend the summer putting together our footage in a collaborative post-production environment. Ideally, we will draw on the broad range of talents and interests of Loyola students to make this happen, from historians and documentarians to musicians and artists who may each make a contribution to the project aligned with their specialties. The goal is to be able to offer these students a scholarship that enables them to work on this film as their "summer job." We are excited about the prospect of giving Loyola students the opportunity to have a hand in such a unique experience where they will not only learn but also build their credentials for their post-graduation career. 
Do you have memories to share?
We are especially looking for stories about Dooky Chase's
and the surrounding neighborhood from the 1940's, 50's, and 60's.
Contact Justin Nystrom
504-865-2568
Are you in a position to support the work of the Documentary and Oral History Studio? 
Help us preserve and tell the important stories
of our city's past.
Contact Karen Anklam
504-861-5423
Documentary and Oral History Studio
Department of History
6363 St. Charles Avenue
Campus Box 191
New Orleans, LA 70118