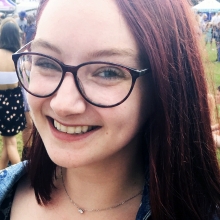 Dr. Rachel Wallace is a Visiting Assistant Professor in History. She serves as a Faculty Advisor for History students, and various student organizations including Plus and Young Democratic Socialists of America. She is also a member of the Women's Studies Committee. Rachel also served as a member of the Faculty Senate, a faculty mentor for the Loyola Student Peace Conference and faculty coordinator for a Study Abroad Ireland Program. Rachel is from Ireland and she completed her degree at Queen's University Belfast before coming to New Orleans. She is also currently a Research Fellow at the Southern Food and Beverage Museum in New Orleans. Her research interests include, LGBTQ+ history, gender history, the 1960s and 1970s, and oral history.
Recent Publications
"Joy and Resilience: Oral Histories of Finding a Gay Community amid The Troubles in Northern Ireland," Oral History (forthcoming)
"'She's punch drunk!!' Humor, Domestic Violence and the British Working Class in Andy Capp cartoons, 1957-1965" Journal of Popular Culture, vol. 51, issue 1, (February 2018): 129-151
"Tasting New Orleans: How the Mardi Gras King Cake came to represent the Crescent City" Southern Cultures 24, no. 4 (2018), 6-23
"Public History of the Gay Community in 1970s Belfast: Exhibiting Private Photographs and Oral Histories" The Public Historian (Forthcoming)
Degrees
PhD. in History (November 2018) Queen's University Belfast, Northern Ireland / MA. in Modern American History, (2013) with Distinction / BA. in Modern History and Literature, (2012) with First
Classes Taught
Transnational Perspectives on Gender and Sexuality in the 20th Century US
1960s in US and Europe
Global History I
Global History II
Areas of Expertise
Major Focus: Gender and Sexuality History, American History, Oral History, Public History.
Specialization: British and Irish History, Transnational History, Food History, Cultural Studies, Social Movements.