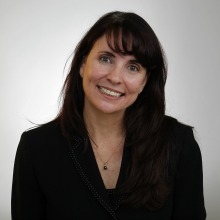 Patricia Boyett earned her Ph.D. in history from the University of Southern Mississippi, her B.A. in history from Mississippi Valley State University, and her B.F.A. in theatre from Arizona State University.  She has worked in media as a disc jockey, in film as a story analyst, and in academia as historian. She began teaching at Loyola in 2012, and in August 2015, she assumed the position of the Director of the WRC.
Dr. Boyett's research has most recently focused on the struggle for racial and gender equity and justice. In 2010 she collaborated with the producers of Radio Diaries on a program for National Public Radio that examined the interracial rape case of Willie McGee and his controversial execution in Mississippi in 1951. Her book, Right to Revolt: The Crusade for Racial Justice in Mississippi's Central Piney Woods (University Press of Mississippi, December 2015), explores one of the most transformative racial revolutions for suffrage, desegregation, equal opportunity, and justice in the South. Her manuscript, from which she developed her book, won the Franklin L. Riley Prize (2012) and placed as a finalist in the Narrative Non-Fiction Category, William Faulkner Wisdom Competition, Words and Music Festival, (2013).
Dr. Boyett is devoted to examining modern struggles of marginalized groups to obtain justice and power. One of her favorite classes to teach is a comparative course on various case studies of oppression and resistance.  She has focused much of her creative work on women and has directed projects examining cycles of sexual and domestic abuse in families. In her new position at the WRC, she is combining her experience in media, the arts, and academia to develop programming, service opportunities, and networking mediums that support the education, equity, and empowerment of women. 
Degrees
Ph.D., University of Southern Mississippi; M.A., University of Southern Mississippi; B.A., Mississippi Valley State University; B.F.A., Arizona State University
Classes Taught
Global History I
Oppression and Resistance