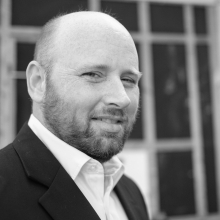 Justin A. Nystrom is an Associate Professor in the History Department at Loyola University New Orleans. He received his bachelor's degree in 1994 from Kennesaw State University where he majored in history and studio art. While still in college, he began a decade-long career in commercial real estate in Atlanta for a division of the Equitable Life Assurance Company as an architectural services coordinator. He returned to graduate school in 1998 at the University of Georgia where he received his History MA in 2000 and PhD in 2004. Nystrom has held teaching positions in the history departments of Georgia Southern University, Virginia Tech, The University of North Carolina at Greensboro, and as a member of the History and Southern Studies Departments at the University of Mississippi.
Nystrom is the author of New Orleans after the Civil War: Race, Politics, and a New Birth of Freedom (Johns Hopkins, 2010) and is in the finishing stages of a book manuscript titled Creole Italian: How Sicilian Immigrants Shaped the Culture of America's Most Interesting Food Town. He has published extensively about the history of New Orleans and the South on topics ranging from the Civil War and Reconstruction, racial identity, labor history, foodways, and cultural history. Nystrom also produces documentary films, including a feature length film titled This Haus of Memories (2012). Nystrom is in the early stages of new scholarship exploring the spread of modernity and technology through the lens of market distribution of perishable food products in the nineteenth century.
At Loyola, Nystrom teaches Southern History, Civil War and Reconstruction, New Orleans History, Documentary and Oral History, and the Historiography seminar. He also regularly teaches in Loyola's innovative interdisciplinary First Year Seminar program, most recently offering a course titled "History on the New Orleans Landscape." He has served as past director of the Center for the Study of New Orleans and is currently the director of the Documentary and Oral History Studio, which he founded as a unit of the History Department in 2012.  As director, he has overseen the collection of over eighty (80) hours of filmed and transcribed interviews with subjects ranging from restaurateurs, independent musicians, longshoremen, significant political and cultural figures in New Orleans, and numerous other individuals from a broad spectrum of society. 
Recent Publications
New Orleans after the Civil War: Race, Politics, and a New Birth of Freedom (Johns Hopkins, 2010)
Degrees
Ph.D., University of Georgia, 2004; M.A., University of Georgia, 2000; B.A., Kennesaw State University, 1994
Classes Taught
History of New Orleans
Civil War and Reconstruction
First Year Seminar
Documentary and Oral History
Areas of Expertise
Southern History, Civil War, and Reconstruction