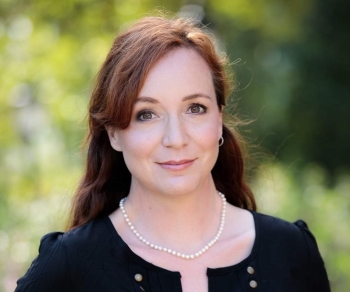 Dr. Margaret Peacock is an Associate Professor of History and Director of Undergraduate Studies at University of Alabama. She graduated from Loyola University New Orleans in December of 1994. She originally majored in Political Science, but after taking a German history class with the now retired Dr. Cook, she decided to best know politics you need to know history and changed her major. During her time at Loyola, Dr. Peacock studied abroad in Russia just five months after the fall of the Soviet Union. She chose to attend Loyola because of her respect for the Jesuit education and its grounded Humanities focus, she knew it would be a solid education.  Dr. Peacock learned that she was expecting a child during her Junior year. With the support of the History department, she was able to change her schedule and graduate Summa Cum Laude just nine days before giving birth. After receiving letters of recommendation, Dr. Peacock went to The University of North Carolina at Chapel Hill and received her Masters in Information Science.Upon graduation, she went to work as a database architect in Silicon Valley. 
After four years in Silicon Valley, Dr. Peacock decided she wanted more freedom and space to be creative. She began looking into Ph. D, programs, and got accepted into University of Texas' Russian History program with a full-ride scholarship. Upon graduation, she went on to teach at University of Alabama where she is afforded the opportunity to research, travel, and work in archives around the world in order to write books.
Her most recent book is what we spoke about mostly. A Deeper Sickness: Journal of America in the Pandemic Year, written by Dr. Peacock and Dr. Erik Peterson, explores the Covid 19 pandemic. Drs. Peacock and Petersoncombined their expertise on the History of Medicine and the History of Media to create one perspective for the voice of the book, telling the story of the pandemic as it unfolded. They explored the question, "Why was the US so unprepared?" To answer this, they looked to deep historical trends, America's broken healthcare system, and its long struggle with vigilantism and racism. The addition of the rise of the  Black Lives Matter movement encouraged them to also explore the inequalities in healthcare access as Black Americans were experiencing higher rates of infection and death. They looked into how socio-economic status and deep rooted American racism impacted the lack of resources for Black Americans and the rise of xenophobia towards Asian Americans. While writing the book, they did interviews with politicians, health care officials, domestic abuse advocates, and substance abuse disorder advocates. Their research included real world engagement such as going to find out how people suffering from substance abuse disorders were finding access to illegal drug sat the height of the pandemic. They also interviewed the chair of the Federal Reserve to look into coin shortage and inflation. They discussed what Dr. Peacock called the "plague of disinformation" that came from everywhere, including the highest levels of government to social media. They explored the willingness of accepting misinformation to reinforce people's sense of identity. Dr. Peacock mentioned the fake mythologized version of American exceptionalism, and noted that as long as we buy into that exceptionalism, we won't get over the results of what has come from it. 
Dr. Peacock noted that though many may try, historians can't be objective. They were open about their subjectivity in writing this book. The narrative is told in the first person and includes personal stories, like Dr. Peacock's experience in not being able to visit her aging mother in her closed down retirement home. The book doesn't try to shy away from being intimate. They had no idea what was happening and the book reflects that. She noted that in the middle of a catastrophe it's hard to tell what's important, and they wanted to capture the chaos of the time. They understand that the book will be a primary source one day, and will be used in future writings on the pandemic. Something that was also important for Drs. Peacock and Peterson were showcasing experiences that came from somewhere besides New York and L.A. – as many places in the South had terrible outbreaks of the virus. They wanted to capture the tension that was present in the region at the time. 
Through this research they produced a book that was over two hundred thousand words long. They wanted the book to be accessible to a common audience, not just academic so they cut it down to just ninety thousand words. This led to the creation of a Digital Humanities Archive of stories,writing, and sources that didn't make it into the book at http://deepersickness.com. Dr. Peacock said this was to make the evidence accessible as well. They wanted people who doubted the book to be able to access tangible evidence and explore the sources for themselves. 
In the future, Dr. Peacock is releasing a book on propaganda in the Middle East titled Voices Carry: Propaganda, Empire, and the Cold War in the Middle East, 1945-1967 . Because of her own enjoyment of hiking, she plans to write her following book on the global history of the pilgrimage. You can buy the book, A Deeper Sickness, here. You can view the digital humanities website, at http://deepersickness.com.