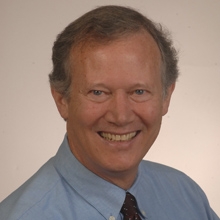 David Moore received a bachelor of arts degree from Loyola University New Orleans. He joined the Peace Corps after graduation and served two years in Wollega Province, Ethiopia.  After two years of high school teaching, he went to the University of Maryland to complete an M.A. and a Ph.D. in american studies.  He has been a member of Loyola's Department of History since 1978.
Moore's areas of expertise are American culture and intellectual history in the late 19th and the 20th centuries, popular culture, and Louisiana history. Most of his recent research and writing has been on aspects of Louisiana's and New Orleans' cultural and social histories. He has presented papers at national and international conferences on such diverse subjects as the Mardi Gras Indians, Tabasco Pepper Sauce, Creoles of Color, and the 1984 World's Fair.
In 2003, the Louisiana endowment for the Humanities presented Moore with a "Special Humanities Award" for his reading and discussion programs in public libraries.  He has also led a number of National Endowment for the Humanities-funded Summer Institutes for secondary school teachers.  He has won awards for teaching and for service at the university and the college levels.  He has been the chair of the Department of History since 1989.