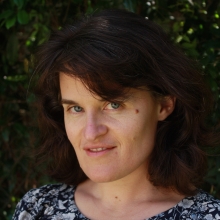 Sarah Allison is the Hutchinson Distinguished Professor and Director of Composition at Loyola University New Orleans and the author of Reductive Reading: A Syntax of Victorian Moralizing (Johns Hopkins UP, 2018). She specializes in large-scale textual analysis and the novels and criticism of nineteenth-century Britain. As a member of Stanford's Literary Lab, she was a co-author of its first pamphlet, "Quantitative Formalism," a study of style and genre, as well as "Style at the Scale of the Sentence," and "Canon, Archive and Literary History," all since reprinted in the volume Canon/Archive: Studies in Quantitative Formalism (n+1 books, 2017). Her work has appeared in ELH, Genre, Victorian Literature and Culture, Victorian Poetry, Journal of Cultural Analytics, Public Books, and Avidly. You can read more about her research and publications here.
Allison's second book, Portraits of the Author with Pen in Hand: Transatlantic Literary Celebrity in the Nineteenth Century, is under contract with Columbia University Press. It draws on interlocking computational approaches - book history, digital archives, and algorithmic criticism - to create a study of "portraits of authors" that centers the many players who worked to produce the figure of the Transatlantic celebrity author.
She is affiliated with the Section on the Sociology of Literature at Uppsala University, Sweden.
Degrees
Ph.D. and M.A., English, Stanford University, 2012; B.A., English, Carleton College
Classes Taught
First-Year Seminar: Why Poetry?
Critical Reading and Writing: Local News (Service Learning Component)
Literature of Protest
Reading Poetry
Jane Austen and Fan Culture
Great Figures: Charles Dickens and Shonda Rhimes
19th Century British Fiction and Digital Methods
Areas of Expertise
Novels, poetry, and nonfiction in the nineteenth century; algorithmic criticism; Transatlantic print culture; escape reading