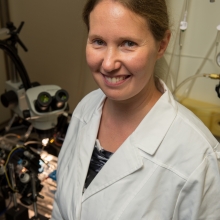 The Earls Laboratory is interested in developmental processes that occur in the adult brain.  Rather than treat the adult brain as a monolith, we study how the brain continues to execute programmed molecular changes well into adulthood.  Our studies are focused on the hippocampus, a region of the brain that is important for learning and memory, and which ages according to a unique molecular program.  We use electrophysiology, behavior, genetics, molecular biology and biochemistry to determine the rules that govern hippocampal maturation during early adulthood.  These studies have important implications for understanding cognitive diseases, many of which emerge only within specific stages of adulthood.  By studying normative early aging, we can better understand the age-dependent cognitive symptoms of diseases such as schizophrenia.   
Dr Earls leads an active learning classroom.  She seeks to guide thought, rather than just impart knowledge.  She believes in providing students with challenging, collaborative learning opportunities.  Her favorite classes creep to the precipice of concrete, 'known' things and peer out into the infinite abyss of the unexplored.  She pushes students to dive into the dark matter of the human genome, to question dogma, to analyze, interpret and predict.  She believes that biology is full of surprises, biases, blunders, and humor. Ultimately, Dr Earls hopes to empower students to see the great potential of scientific study and to dare to imagine themselves in it. 
Recent Publications
S. Kragness, Z. Clark, A Mullin, J. Guidry and LR Earls. A Rtn4/Nogo-interacting micropeptide that modulates synaptic plasticity with age. PLOS ONE. 17(6):e0269404. June 30, 2022.
Sabrina Kragness, Mark A. A. Harrison, Joby J. Westmoreland, Adam Burstain, and Laurie Earls. Age-dependent expression pattern in the mammalian brain of a novel, small peptide encoded in the 22q11.2 deletion syndrome region. Gene Expression Patterns. 2018. June;28:95-103. PMID: 29571919
Earls LR, Westmoreland JJ, Zakharenko SS. Non-coding RNA regulation of synaptic plasticity and memory: implications for aging. Ageing Res Rev. September 2014, Vol 17: Pages 34–42.
Earls LR, Zakharenko SS. A synaptic function approach to investigating complex psychiatric diseases. The Neuroscientist. Review. 2013. Aug 1; 20 (3): 257-271.
Earls LR, Fricke RG, Yu J, Berry RB, Baldwin LT, Zakharenko SS. Age-dependent microRNA control of synaptic plasticity in 22q11 deletion syndrome and schizophrenia. J. Neurosci. 2012 Oct 10;32(41):14132-44. Evaluated by the Faculty of 1000.
Degrees
Ph.D. Cell and Developmental Biology, Vanderbilt University, Nashville, TN; B.S. Biochemistry, East Tennessee State University, Johnson City, TN
Classes Taught
Genome Biology
Graduate Communications
Heredity and Society Lab
Biological Sciences Lab
Careers in Biology
Graduate Methodology
Areas of Expertise
Molecular genetics, biochemistry, neuroscience, aging, making stuff