Collaborate and investigate
The Department of Biological Sciences occupies the newly renovated fourth and fifth floors of Monroe Hall. Both our teaching and research laboratories feature state-of-the-art equipment for safely studying and investigating the form, function, and diversity of microbes, plants, and animals.
Our laboratories are arranged to facilitate active learning and collaboration among small groups of students. Classrooms and laboratories feature wired and wireless Internet access and courses are taught using multimedia presentations. Laboratories house quality compound, dissecting, and phase contrast microscopes. In addition, the department maintains a rooftop greenhouse for teaching and faculty/student research. 
See highlights of our renovated spaces here.
Laboratory Studies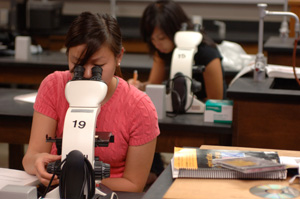 Biology teaching and research spaces contain state-of-the-art instruments to isolate, characterize, and analyze biologically significant macromolecules via methods such as ultracentrifugation, PCR, electrophoresis, DNA sequencing, radioactive labeling, spectrophotometry. The department regularly receives internal and external funding to both update existing and acquire new research and teaching instruments.
Field Studies
The study of ecological and evolutionary processes is supported on campus with a diverse collection of living and preserved specimens and slides. Newly acquired hardware and software is being used to study the physiology of plants and animals in the laboratory. However, our real strength is in the support of regular field trips to investigate aquatic and terrestrial ecosystems. We use our passenger vans and boats to transport students to a diversity of habitats in places such as the Mississippi River delta, Pearl River basin, Lake Pontchartrain, Florida Everglades, and tropical forests of the Yucatan peninsula. Our affiliation with the Louisiana Universities Marine Consortium (LUMCON) provides our students with access to a state-of-the-art marine science field station in Cocodrie, LA.
Greenhouse
The 3,000-square-foot Greenhouse facility is located atop the recently renovated Monroe Hall on the main campus. Open to both students and faculty, the rooftop greenhouse provides a crucial resource for teaching and research in biological, botanical and environmental sciences. View the full greenhouse page here.