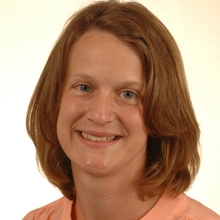 Kimberlee Mix joined the Department of Biological Sciences in the fall of 2009. Dr. Mix's research is focused on inflammatory joint diseases such as rheumatoid arthritis and osteoarthritis. The goal of her research is to understand the molecular and cellular events that contribute to cartilage and bone damage during disease progression. Molecular studies are aimed at identifying novel therapeutic targets that regulate the structure and function of joints. Dr. Mix and her research students are investigating roles of the NR4A orphan nuclear receptors in cartilage and synovial tissues. As transcription factors, these receptors regulate subsets of genes involved in the degradation of cartilage and the proliferation of cells. Current projects involve monitoring expression patterns of the NR4A receptors in models of inflammatory arthritis and investigating roles for these receptors in the formation of benign tumors in joints.
Collaborative Research with Students
  Dr. Mix involves students in all aspects of the research process and provides training in cellular and molecular biology techniques in her laboratory.  Students present at local and national research conferences and contribute to peer-reviewed publications (* indicates student co-authors below).  Students interested in participating in biomedical research and gaining hands-on experience in the laboratory are encouraged to contact Dr. Mix for more information.  Dr. Mix is on sabbatical leave AY18-19.
Recent Publications
*McCoy JM, *Walkenhorst DE, *McCauley KS, *Elasaar H, *Everett JR, and Mix KS. Orphan nuclear receptor NR4A2 induces transcription of prolactin in human synoviocytes. Journal of Inflammation, 12:13, 2015
*Everett JR, Gravallese E, and Mix KS. NR4A2 expression patterns in mouse models of rheumatoid arthritis. Journal of Student Research, 4:136-144, 2015.
Mix KS, McMahon K, McMorrow JP, *Walkenhorst DE, Smyth AM, Petrella BL, Gogarty M, Fearon U, Veale D, Attur MG, Abramson SB, and Murphy EP. Orphan nuclear receptor NR4A2 induces synoviocyte proliferation, invasion, and matrix metalloproteinase 13 transcription. Arthritis & Rheumatism 64(7): 2126-2136, 2012.
Aherne CM, McMorrow JP, Kane D, FitzGerald O, Mix KS, Murphy EP. Identification of NR4A2 as a transcriptional activator of IL-8 expression in human inflammatory arthritis. Molecular Immunology, 46(16):3345-57, 2009.
Degrees
PhD in Biochemistry from Dartmouth College (2003); BS in Biotechnology from Worcester Polytechnic Institute (1998)
Classes Taught
•    BioInquiry
•    Cells & Heredity lecture
•    Cells & Heredity lab
•    Molecular Genetics lecture
•    Molecular Genetics lab
•    Investigating Nature
Areas of Expertise
Biochemistry, Cell and Molecular Biology, Immunology