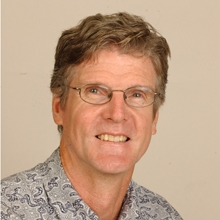 Don Hauber joined the Department of Biological Sciences in 1984. What makes an outstanding teacher? Dr. Hauber believes it needs to be one who enjoys teaching (maybe not the grading, though J). Seeing new faces each semester; having an influence on them as a group and as individuals is rewarding for Dr. Hauber. No matter how many years a teacher has been in the profession, he feels there is always room for improvement. As such, he considers seriously the course evaluations each semester. When developing and teaching his new courses, he believes the student input is particularly helpful and constructive for the ultimate evolution and improvement of the course. Input from colleagues is invaluable particularly when two or more have collaborated on core curriculum courses. Dr. Hauber has taken advantage of these interactions by including some of their style and innovations into his courses. He has been inspired by colleagues to work towards transforming his courses into more student-centered classes; this transfers more of the responsibility of learning to the student. Though 30+ years into his teaching career, he has found that he, too, can adapt.
Dr. Hauber studies the population genetics of native and invasive plant species in the Southeast using DNA fingerprinting (microsatellite) markers, Sanger sequencing and GBS (genotype by sequencing). His recent work has focused on Salvinia minima introductions in freshwater lakes and waterways of coastal Louisiana and genotypic variation in Phragmites australis principally in the MS River delta particularly as it pertains to invasiveness and rate of spread. He is also interested in variation and invasiveness of cattails (Typha spp.) in the local marshes.  Finally he studies the nature of polyploidy in plant species and its evolutionary significance.
Dr. Hauber is always eager to speak with students with interests in doing research in his lab.
Recent Publications
Rowe, Carol A., D.P. Hauber, and P.G. Wolf. In review. Genomic variation of introduced Salvinia minima in southeastern United States. Aquatic Botany
Crawford, D.J., D.P. Hauber, L.B Silva, M. Menezes de Sequiera, M. Moura, A. Santos-Guerra, J.K. Kelly, and M.E. Mort. 2016. Breeding Relationships in Macaronesian Tolpis (Asteraceae-Cichorioideae): F1 Hybrid Pollen Fertility Within and Among Populations from the Azores, Canary Islands and Madeira. Systematic Botany 41: 881-893
Kettenring, K. M., S. deBlois, and D.P. Hauber. 2012. Moving from a regional to a continental perspective of Phragmites australis invasion in North America. AoB Plants 2012; doi: 10.1093/aobpla/pls040. http://aobpla.oxfordjournals.org/cgi/reprint/pls040?ijkey=pFaNzBsqab6P52W&keytype=ref
Hauber, D.P., K. Saltonstall, D.A.White, and C.S. Hood. 2011. Genetic variation in the common reed, Phragmites australis, in the Mississippi River delta marshes: evidence for multiple introductions. Estuaries and Coasts DOI 10.1007/s12237-011-9391-9.
Saltonstall, K. and D.P. Hauber. 2007. Notes on Phragmites australis (Poaceae: Arundinoideae) in North America. J. Bot. Res. Inst. Texas 1:385-388.
Degrees
Ph.D., Texas Tech University, 1984; M.A., University of Kansas, 1980; B.S., University of Kansas, 1978
Classes Taught
BioInquiry
Biology of Organisms
Cells & Heredity
Evolutionary Biology
Population Genetics
Genetic Analysis
Investigating Nature 
Areas of Expertise
Population Genetics, Molecular Biology, Botany, Invasive Species, Evolution