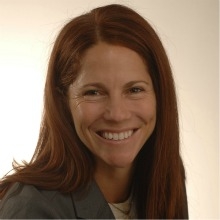 Dr. Aimée K. Thomas is a Lecturer/Assistant Professor in the Department of Biological Sciences, and Assistant Director for the Office of Teacher Certification at Loyola University New Orleans.  She received her Master's Degree in Environmental Biology and Ph.D. in Biology Education at the University of Southern Mississippi (USM) where she was the Director of the Biological Sciences Learning Center.  At USM, she received the University Research Council Creative Activities Award for the informal science education programs she developed, including Night at the Museum, Discover Nature Series, Biology Trails and Survivor Biology camps, was named the Beta Beta Beta Teacher of the Year, and received the College of Science and Technology Outstanding Faculty Teaching Award.  She was named a Rotary Paul Harris Fellow and a Quality Enhancement Plan Fellow by USM.  At Loyola, she recently received a Bobet Fellowship for her development of an innovative first-semester biology course that uses experiential learning to teach the process of science. 
Dr. Thomas has an interest in promoting STEM education and environmental awareness through informal science education programs and research. Her research focuses on spider communities in Belize and Jean Lafitte National Park and STEM education in informal learning environments. She served as Co-principal investigator (Co-PI) on the NSF-funded project "OUTSIDE: Over, Under, and Through: Students Informally Discover the Environment". The project goals were to improve content knowledge, stimulate interaction with nature, train naturalists, and integrate technology into an informal science education experience for middle school students. This project specifically aimed to 1) Develop a training program for volunteer naturalists; and 2) Seek to capture patterns in learning and interactions between students and naturalists during OUTSIDE programming. She also serves on the Board of Directors for the Louisiana Master Naturalist of Greater New Orleans, an organization that encourages members of the community to be good stewards of the environment by learning the natural history of the Greater New Orleans region and volunteering time to teach others about the complexities of the natural history of the region.
Dr. Thomas has received more than $630,000 to fund her research and environmental education programs and has worked with over 10,000 students ranging from kindergarten to graduate school in formal and informal science settings, in addition to teaching for 19 years.  She currently teaches Foundations in Environmental Studies, BioInquiry, Evolution, Science Methods II, Investigating Nature and several other Biology courses at Loyola. She also takes students to Belize, Guatemala, Ecuador and the Galapagos Islands to study tropical ecology.  
Classes Taught
Cultural Biology
Evolution