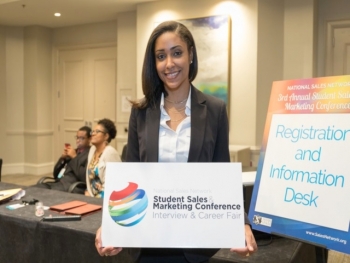 Mignon Blanc (BIOL '19) is Loyola's Student Ambassador for the National Sales Network, and she is looking to recruit competitive young professionals interested in a career in business.  The National Sales Network is an organization whose objective is to develop sales and marketing professionals, while providing them with a network of like minded individuals who can be of assistance on their career path.
You may be wondering "why sales if I'm a science major?" Mignon asked herself that same question, then she stumbled upon Medical Sales. Major corporations like GE Healthcare, Johnson & Johnson, Boston Scientific, Medtronic, and Sanofi Pasteur are looking for young science majors like yourself to sell and market their products. So if you are unsure of your next steps after graduation, consider sales. Medical sales is a very lucrative and rewarding career.
NSN hosts a student conference in Atlanta, GA that places you in front of executives and hiring managers looking to hire students like you. Mignon had a full time summer internship and received 3 fulltime offers from Fortune 500 companies for when she graduates in 2019. If this sounds like something you're interested in, please refer to the requirements below and apply today! Don't forget to mention Mignon Blanc referred you!
Applicant Requirements:
Will be a Sophomore, Junior, or Senior in Fall 2019

GPA of 3.2 or higher

Competitive and team oriented spirit

Willingness to travel to Atlanta on Sept. 14- 16
Conference Benefits:
Leadership development training including sales and marketing competitions

Peer to peer networking and networking with industry leaders 

Business career coaching and mentoring opportunities