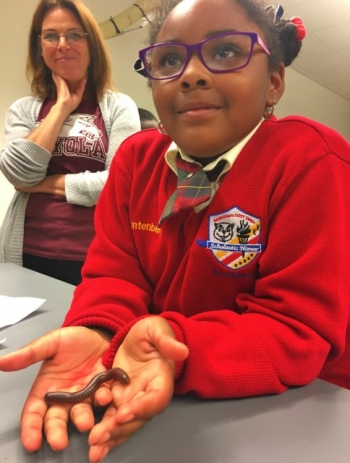 Late Nights at Loyola - Solving Mysteries with Science.
Late Nights at Loyola 2017 welcomed 15 students from Anna's Place Tuesday night for Solving Mysteries with Science. Students searched for arthropods, matched zoomed in pictures to the correct animal, learned about solving mysteries with fingerprints, created hidden messages using invisible ink and identified liquids as being acidic or basic depending on chemical reactions.   Late Nights at Loyola is a series of events that prioritizes student-centered learning in the sciences. This project is aimed at fourth through eighth graders who have not had the opportunity to be in a specialized learning environment where each student receives close attention. Students learn foundational skills in the natural sciences through hands-on educational activities. These activities incorporate typical scientific techniques, simulating real classroom experiences. Loyola students and faculty design and implement the curricula for the students, ensuring that all of the lessons are aligned with Next Generation Science Standards. Hopefully, this experience will expose students to a fulfilling learning process and motivate them to continue to pursue their educational goals.
Check out the photo gallery here.