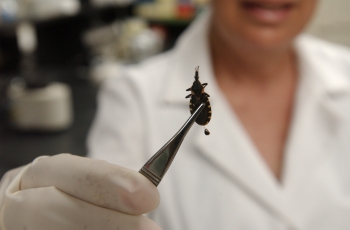 Jonathan Kurtz and Nick de la Rua, presented results of their research on Chagas disease at the 57th annual meeting of the American Society of Tropical Medicine and Hygiene, Dec. 7-11, 2008, at the Sheraton Hotel in New Orleans.
Kurtz presented his results on Chagas insect vectors from the southwestern United States and de la Rua on his work on Chagas insect vectors in New Orleans. Kurtz and de la Rua completed this research as Public Health Research Scholars in the laboratory of Dr. Patricia Dorn. Dorn will also presented her work on the main Chagas insect vector in Central America and Mexico.
Kurtz and de la Rua, along with five other students, were awarded Public Health Research Scholarships to participate in a comprehensive undergraduate research program, which, in addition to the research, includes weekly laboratory meetings, journal club, discussion of scientific ethics and, if the students have data to present, participation in scientific meetings.