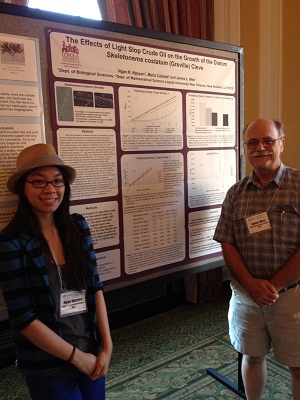 Biology major Kim Nguyen based on research with Dr. James Wee (Biological Sciences) presented a poster at the 2012 Annual Meeting of the Phycological Society of America (PSA) in Charleston, SC on June 20-23, 2012.
"The Effects of Light Slop Curde Oil on the Growth of the Diatom Skeletonema Costatum." Nguyen, N.K., Loyola University New Orleans, USA, Wee, J.L., Loyola University New Orleans, USA, Calzada, M.E., Loyola University New Orleans, USA,
A strain of S. costatum was isolated from the Lake Pontchartrain basin estuary, LA and aged seawater from the site (salinity = 7.7 ppt) was used to make f/2 culture medium. Oil contamination was introduced to the culture media via emulsification (1:9, 24 hours, 200 rpm). Experimental treatments included uncontaminated f/2, oil-emulsified f/2  and oil-emulsified f/2 diluted with uncontaminated f/2 to produce culture media containing 25%, 50% and 75% of oil-emulsified f/2. In preliminary experiments hydrocarbon chain lengths decreased during the experiment. To observe groth of cultures, OD730 readings were recorded on alternate days for ten days. The slopes of the grouth curves were compared among the different experimental treatments from day 4 to day 10. Uncontaminated f/2, 25% and 50% treatments showed similar growth curves; the 75% treatment exhibited inhibited growth before recovering at day 4, while no growth occurred in the undiluted, oil-emulsified f/2 treatment. The slopes for the uncontaminated f/2 culture media and 25% treatment were the same (p<0.001), suggesting that oil contamination in the 50% treatment can inhibit growth.