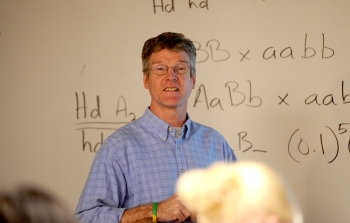 Loyola Biology professor explores invasive plant's role in wetlands restoration
A paper reviewing the latest research on invasive wetlands plants co-authored by Loyola University New Orleans associate chair of biological sciences Donald P. Hauber, Ph.D., was featured in the online journal, Annals of Botany Plants. The article is part of a special issue that details the common reed—often pigeon-holed as nothing more than a nuisance plant—and the positive and negative roles it plays in wetlands and wetlands restoration.
This review, "Moving from a regional to a continental perspective of Phragmites australis invasion in North America," draws on Hauber's extensive experience tracking how the common reed is affecting the wetlands of the Southeastern U.S. and Louisiana. The plant is common in the interior marshes of the Mississippi River Delta and could play a significant role in stabilizing marshes in the area. Hauber said there are several lineages of this invasive plant in wetlands worldwide, and the solution to managing the wetlands isn't one size fits all.
"We think it's important to make sure that when you're using wetlands plants for wetlands restoration, you're looking carefully at the genetics of these things," Hauber said, "and just to have a better sense of whether or not an invasive type could potentially be useful—not always to just get rid of it."
Hauber co-authored the review paper with Utah State University's Karin M. Kettenring, Ph.D., and McGill University's Sylvie de Blois, Ph.D.