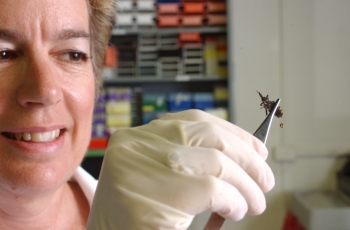 September 28, 2012
Patricia Dorn, Ph.D., professor of biological sciences at Loyola University New Orleans, traveled to Cochabamba, Bolivia earlier this month to deliver a keynote address at the Second International Workshop on Chagas Disease at the Universidad Mayor de San Simón.
Dorn's address, "Systematic Hypothesis Testing in the Triatominae: Reassessment of Species Complex Assignments of North and Central American Triatoma," described the Chagas research she has done with Loyola biology alumnus, Nick de la Rua '10, and other colleagues.
The conference was in memory of François Noireau, Ph.D., a French medical entomologist, who devoted much of his life to the study of kissing bugs and Chagas disease. Noireau unexpectedly passed away last year in Bolivia. Dorn began her work on Chagas disease in Bolivia in 1993 with Noireau, and they had recently co-authored a book chapter.
For more information, contact Dorn at 504-865-3672 or dorn@loyno.edu.
For the latest updates about Loyola University New Orleans, follow us on Twitter @LoyolaNOLANews or become a fan on Facebook at www.facebook.com/loyno.
Loyola at a Glance is written and distributed for the faculty, staff, students and friends of Loyola University New Orleans. It is published by the Office of Public Affairs, Greenville Hall, Box 909, 7214 St. Charles Avenue, New Orleans, LA 70118. (504) 861-5888.
Information to be included in Loyola at a Glance must be received 2-3 weeks in advance of the publication date. Send us your news here.