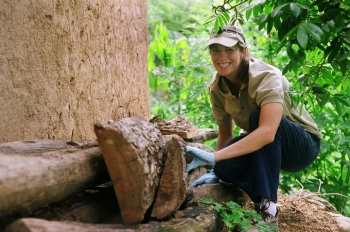 Biology alumni Bethany Richards and Nick de la Rua are co-authors of a publication on the biology of Chagas Disease. Published in the  Memoirs of Institute Oswaldo Cruz, the paper describes new methods to quickly determine the genetic identity of bugs carrying the Chagas disease parasite.  Co-authors of the paper include Drs. Carlota Monroy (Universidad de San Carlos), Lori Stevens (University of Vermont) and Patricia Dorn (Loyola University)  [pdf link].    
Chagas disease places more than 25 million people in Latin America at risk, and is caused by a parasite (Trypanosoma cruzi) that is carried within an insect vector (Triatoma dimidiata). Because some genetic strains of T. cruzi are more virulent (disease causing) than others, the ability to quickly assess and map the geographic distribution of both parasite and vector populations is an important public health tool.
Describing the research, Bethany Richards explained…"Because of this new method described in our paper, we now have a higher rate of success for identifying ITS-2 information, and the method is overall much cheaper and simpler. The tools needed to perform this method are more basic, meaning that labs in endemic countries such as Guatemala can now perform these experiments and obtain genetic information for these bugs more quickly, instead of relying on expensive outside support. Hopefully, we will obtain more information from these bugs using this new method of genotyping, and therefore help insect control efforts in these endemic countries to halt the spread of Chagas disease."
Nick de la Rua graduated with Honors in Biological Sciences in 2010 and recently completed a Masters of Science degree in Biology at University of Vermont. He conducted a Honors thesis at Loyola on Chagas disease and presented two papers at the 2010 Biology Undergraduate Research Symposium.    
Bethany Richards conducted her own research project on Chagas disease here at Loyola, and in 2012 presented the results of her study at the Biology Undergraduate Research Symposium. Bethany is beginning medical school studies this Fall at UT Southwestern Medical Center in Dallas.