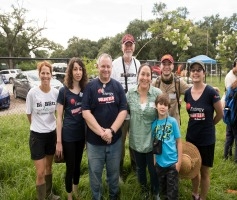 BioBlitz New Orleans City Park
A BioBlitz, also known as a biological inventory or biological census, is an event or intense period of surveying that focuses on finding and identifying as many species as possible in a specific area over a short period of time.
BioBlitz New Orleans City Park is assessing the full range of species in the 1,300-acre park, which includes lagoons, historic oak trees, fishing ponds, fields, golf courses and botanic gardens — and is home to the world's largest collection of mature live oaks and some of the city's most important recreational facilities, from Storyland to the New Orleans Museum of Art. 
The aim is to identify as many species as possible and add observations to an existing list of native and introduced flora and fauna. Data gathered will be used by City Park to prepare for the future by informing park management plans. 
More than 20 experts from universities and research facilities around the greater New Orleans area are leading groups of volunteers as they gather observations and information on plants, birds, insects, reptiles, mammals and other wildlife in the area.
The "Citizen Science" project is open to people of all ages and levels of expertise. Come join us and engage in the process of science, either by sharing your expertise or expanding your knowledge by working hand-in-hand with a variety of specialists. Download the iNaturalist app (www.inaturalist.org) and add your observation to our project, "BioBlitz New Orleans City Park."
This project is sponsored by Entergy and hosted by
New Orleans City Park and Loyola University New Orleans.
The first BioBlitz was held on Saturday, July 15, 2017 - 8 a.m. - Noon with over 200 people reporting to the City Park volunteer center at 1009 Harrison Avenue. View the BioBlitz photo gallery here.
Check out the article that the Advocate wrote on the BioBlitz New Orleans City Park event.
Look for more BioBlitz events coming this fall 2017.  We hope to see you there!