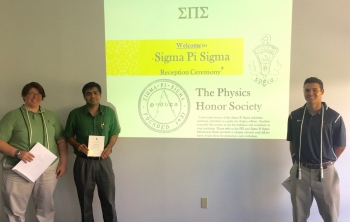 The Loyola chapter of Sigma Pi Sigma inducted three new members into the honors society on Tuesday, April 25th. The inductees include Cody Smith, Spencer Rosenbohm, David Olivier (not pictured) and physics professor, Tirthabir Biswas.
The SPS honors society is very active within the Loyola physics department and puts on seminars throughout the year with speakers from a wide range of backgrounds and professions who discuss current topics related to physics and other sciences.
Sigma Pi Sigma is an organization of the American Institute of Physics, and a member of the Association of College Honor Societies. Founded in 1921, there are more than 90,000 historical members. Sigma Pi Sigma exists to honor outstanding scholarship in physics, to encourage interest in physics among students at all levels, to promote an attitude of service, and to provide a fellowship of persons who have excelled in physics. 
For more information on SPS Seminars, click here.