The department's teaching and research facilities are located in Loyola's Monroe Hall. Students are encouraged to participate in faculty research and in the undergraduate research projects. This opportunity to work closely with the faculty using the sophisticated equipment of modern physics is one of the features of the department.
Our teaching labs are located on the first floor of Monroe Hall. We have introductory and advanced teaching labs including a variety of experiments. In addition, we have a large research lab on the second floor of Monroe Hall. It supports main research areas of the Department as well as a variety of student projects.
There is also a Reading Room in Monroe 253 which is available as a place for students to meet and study together.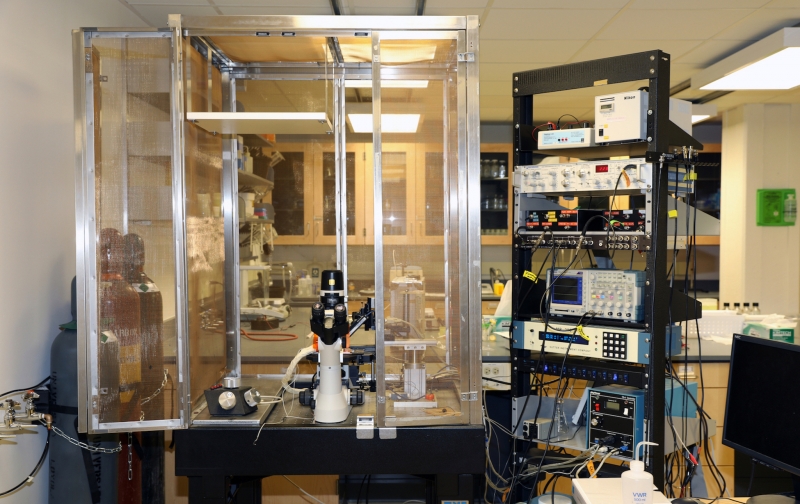 Biophysics is a highly interdisciplinary science. Research in biophysics of ion channels combines elements of biology, physiology, physics, chemistry, electronics, mathematics and computer science. The Biophysics Lab in our department is devoted to studies of ion channels in cellular membranes. Ion channels are proteins regulating the flow of certain ions, like K+, Na+, or Ca2+, in and out of the cells of living organisms. This is a very active, very exciting research area, involving various experimental techniques and data analysis methods.
Click here to learn more about the Biophysics Lab.
Quantum Optics Lab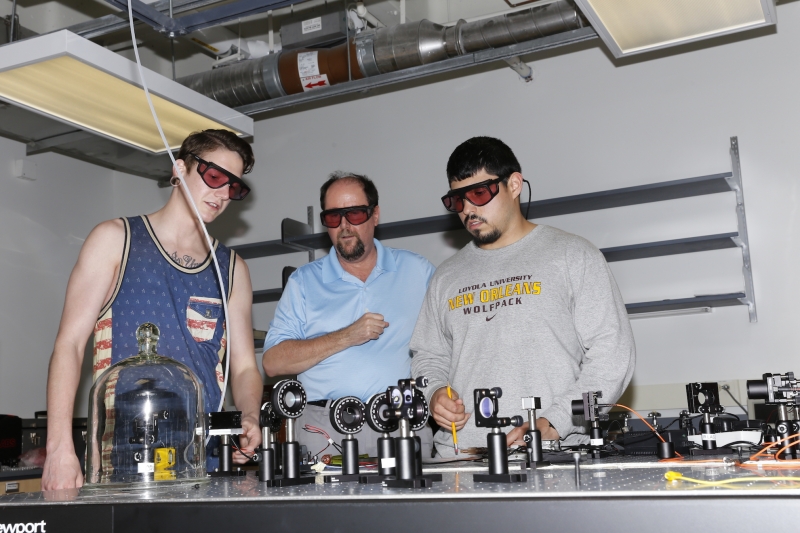 Experiments using light quanta – photons – have proven to be very effective probes of a large range of phenomena, including quantum entanglement. This phenomenon has long fascinated scientists, and exemplifies the mystery and 'weirdness' of quantum physics. It also points the way towards the possibility in the future of extremely powerful quantum computers. In the Quantum Optics Lab, students are involved in all aspects of the work, from putting together and aligning optical components to building electronics, to using computers to acquire, analyze and model the data. 
Machine Shop
A variety of metal and woodworking tools including:
Lathe

Milling Machine

Drill Press

Band Saw

Table Saw
Advanced Teaching Lab
Diode Laser Spectroscopy

Interferometry

Pulsed Nuclear Magnetic Resonance

Sonoluminesence

Young's Double Slit Experiment

Mechanical Torsion Oscillator

Cavendish Big 'G' Experiment 

Fiber Optic Speed of Light Experiment