Dr. Christie Hartley of Georgia State University gives lecture on feminism, political liberalism, and marriage
---
Professor Christie Hartley of Georgia State University's philosophy department delivered a lecture titled "Feminism, Political Liberalism, and Marriage." Dr. Hartley's lecture is part of a manuscript-length project between Dr. Hartley and Dr. Lori Watson of the University of San Diego. 
As part of her visit, Dr. Hartley also visited with both sections of Dr. Leonard Kahn's, "Ethics and the Limits of the Social Contract," to discuss her work on disability and had lunch with members of the Ethics Bowl team (Hartley pictured third from left).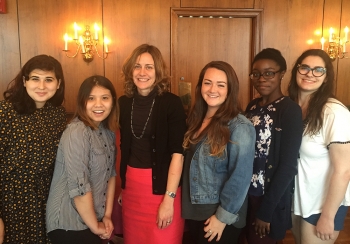 A video of Dr. Hartley's lecture can be seen here.