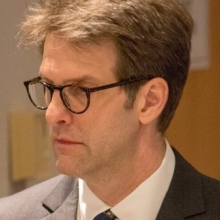 My primary areas of research are moral theory and applied ethics, especially the intersection of the ethics of technology and just war theory. However, my teaching interests include political philosophy, philosophy of law, philosophy of mind and action, feminist philosophy, and both decision and game theory.
During the 2021-2022 academic year I was the Donald and Beverly Freeman Fellow at the US Naval Academy's Stockdale Center for Ethical Leadership. Before coming to Loyola, I taught in the Department of Philosophy at the U.S. Air Force Academy in Colorado Springs, Colorado. I have also been a Post-Doctoral Research Fellow at the University of Calgary in Calgary, Alberta and a Visiting Scholar at both the Yale University Center for Bioethics and the Hastings Center for Bioethics. I completed my doctorate at the University of Oxford (Magdalen College) under the supervision of Derek Parfit and Roger Crisp. While working on my doctorate, I was a Visiting Lecturer at the University of North Carolina, Chapel Hill and at the University of Reading in Reading, UK.
My most recent publications:
Occasionally, I publish lighter pieces that intersect with various aspects of popular culture.
Degrees
D. Phil, Oxford University
Classes Taught
Ethics
Making Moral Decisions
Philosophy of the Human Person
Honors Seminar: Matters of Life and Death
Philosophy and Feminism
Senior Seminar: The Ethics of War
Global Ethics
Honors Seminar: The Social Contract and Its Limits
Decision and Game Theory
Honors Seminar: Forgiveness
Social Justice
Senior Seminar: Problems from Parfit
​Honors Seminar: Social Justice, from Theory to Practice 
Law and Morality
Honors Seminar: Freedom, Rights, and the State of Nature
Honors Seminar: World Poverty and Effective Altruism 
Philosophy of Mind
First-Year Seminar: Philosophy and Science Fiction Films
Philosophy of Law
Moral Reasoning for Naval Leaders
Ethics and Artificial Intelligence
Areas of Expertise
Moral Theory and Applied Ethics