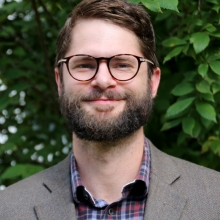 I primarily work on philosophical skepticism. But behind that work, lies a broader motivating question: what is it to be rational? My projects in epistemology, logic, and the history of both of those disciplines all orbit around that broader question.
Current research investigates the philosophical lesson, or moral, we ought to draw from the long recalcitrance of skeptical arguments. I am also working on a new account of the rational prohibition against circular reasoning.
Some of my more historical work includes studies of the infamous Cartesian Circle and Aristotle's early contributions to modal logic.
I am editor of the "Skepticism" section on the research database philpapers.org.
I am also the faculty advisor to Loyola's chapter of Phi Sigma Tau, the philosophy honors society.
Prior to coming to Loyola, I pursued doctoral studies at Saint Louis University under the direction of John Greco. I did an MA on Kant's theoretical philosophy at Georgia State University. I taught ESL in Santiago, Chile, and I did my BA in philosophy at UNC Wilmington.
Recent Publications
"Against the New Cartesian Circle," Canadian Journal of Philosophy 47 (1): 66-74 (coauthored with C.P. Ragland).
"Love, Justice and Divine Simplicity," in Love and Justice, edited by Ingolf Dalferth, Claremont Studies in the Philosophy of Religion, Tübingen: Mohr Siebeck (forthcoming)
Degrees
Ph.D., Saint Louis University
Classes Taught
Epistemology
Symbolic Logic
Philosophy of Science
Philosophy of the Human Person
Making Moral Decisions
Medical Ethics
Areas of Expertise
Epistemology, Logic, History of Logic & Epistemology