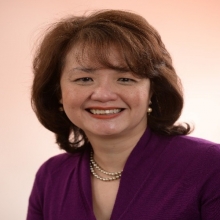 Dr. Constance Mui is Professor of Philosophy and holds the Rev. Scott Youree Watson, S.J., Distinguished Professorship in Arts and Sciences. She specializes in continental philosophy, and has published articles, book chapters, and edited volumes on phenomenology, feminist theories, Sartre, Strawson, Beauvoir, Marcel, Malabou, Laruelle, Stiegler, and Derrida.
Selected publications include: The Sartrean Mind (co-edited with Matthew Eshleman, a 42-chapter volume devoted to the entire Sartrean corpus in philosophy, literature, psychoanalysis, and politics. Routledge, 2020); Gender Struggles: Practical Approaches to Contemporary Feminism (with J. Murphy, Rowman & Littlefield, 2002);  "Intersubjectivity and the Look" (2020); "The Future of the University: Stiegler after Derrida," (with J. Murphy, 2019); "Victims, Power, and Intellectuals: Laruelle and Sartre," (with J. Murphy, 2018); "Pierre Loves Horranges: Sartre and Malabou on the Fantastic in Philosophy," (with J. Murphy, 2015); " 'Revolutionary Road' and The Second Sex" (with J. Murphy, 2012); "Sartre's Sketch of the Emotions: A Critical Reconstruction," (2010); "Willing the Freedom of Others After 9/11: A Sartrean Approach to Globalization and Children's Rights" (with J. Murphy, 2007); "A Feminist-Sartrean Approach to Understanding Rape Trauma," (2004); "Enduring Freedom: Globalizing Children's Rights" (with J. Murphy, 2003); "Pornography, Objectification, and the Sartrean 'Look'" (2001); "Sartre and Marcel on Embodiment: Reevaluating Traditional and Gynocentric Feminisms", (1999); "Rethinking the Pornography Debate: Some Ontological Considerations" (1998); "On Gordon's 'Sartre and Evil' " (1997);"On the Empirical Status of Radical Feminism" (1990); "Against Cartesian Dualism: Strawson and Sartre on the Unity of Person" (1991); "Sartre's Sexism Reconsidered" (1989). Dr. Mui is recognized for her work in developing and adopting a viable philosophical framework for feminist theory based on Sartrean ontology.
Dr. Mui was recipient of the Dux Academicus Award, as well as numerous teaching and advising awards.  She co-founded (with history professor Nancy Anderson and English professor Barbara Ewell) the Women's Studies Program, the first multidisciplinary program at Loyola University. She was Scholar-in-Residence at Fudan University (School of Philosophy) in Shanghai, PRC in 2012-2013. Her professional service includes leadership positions in many organizations.  She has held several offices in the North American Sartre Society, and was President of the Society from 2002 to 2005.  She served on the Diversity Committee of the Society of Phenomenology and Existential Philosophy from 2001 to 2005. She is President of the Central Division Sartre Circle, as well as an Executive Editor for the journal, Sartre Studies International.
Degrees
Ph. D., Brown University.
Classes Taught
Phenomenology
Interpreting Sex/Constructing Gender
Feminist Theories
Seminar: Sartre & de Beauvoir
Seminar: Michel Foucault
Freedom and Oppression
Existentialism
Metaphysics
Ethics
Philosophical Anthropology
Philosophical Perspectives on Women
Areas of Expertise
Phenomenology and Existentialism
Contemporary French Philosophy
Jean-Paul Sartre and Simone de Beauvoir
Feminist Theories