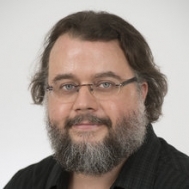 Visiting Assistant Professor Drew Chastain published his research this January on the relationship been freedom of the will and the meaningfulness of life in the journal Philosophia.
Chastain asks, "If we lack deep free agency, like that supposed by metaphysical libertarianism, should we view life as meaningless, pointless, or not worth living?" He presents "a new argument in support of meaning-compatibilism, or the view that life can indeed be meaningful without our having deep free agency." According to Chastain, "this argument secures meaning-compatibilism more effectively than an argument provided by Derk Pereboom. In the process, we learn that Susan Wolf's hybrid theory of meaning in life is not equipped to handle the question of meaning-compatibilism, which a broader approach to meaning in life should help us to grasp. On the alternative approach judgments about meaning in life involve a sensitivity to whether giving up on life, or 'agency defeat,' is justified. I argue that, so long as we are able to exist in reality, giving up on life is difficult to justify, and even without deep free agency, we do indeed exist in reality."
Read the whole paper here. Chastain also published two more peer-reviewed papers in late 2018:
"Liberating Spirit from Santayana's Spectatorial Spirituality." Overheard in Seville: Bulletin of the Santayana Society. No. 36. Fall. 99-114.

"Becoming a Hollow Bone: Lakota Respect for the Sacred." The Philosophy of Spirituality: Analytic, Continental and Multicultural Approaches to a New Field of Philosophy. Eds. Rod Nicholls & Heather Salazar. Netherlands: Brill | Rodopi. 164-188.