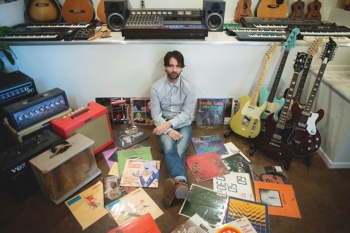 AM (aka Anthony Miller) graduated from Loyola University in New Orleans with a B.A. in Philosophy and attributes his love of the subject to helping his craft as a songwriter.  With over 90 songs featured in movies and TV shows, such as Ashton Kutcher's Spread, HBO's Big Love, ABC's Brothers and Sisters, MTV's The Hills, and more, AM has recently signed with CAA in Los Angeles as a composer for movies and television.  Most recently, AM's song, "What You Hide," was featured in the second episode of NBC's hit show Friday Night Lights (which aired May 14th, 2010), and the song will also be included on the Friday Night Lights Soundtrack Album.
With what Spinner.com describes as "distinctive melodic swagger," AM's new album, "Future Sons & Daughters," brings together his own brand of groovy lounge pop and pays homage to the Tulsa-born, New Orleans-raised musician's diverse influences, which include Jorge Ben, Brian Wilson, Sergio Mendes and Curtis Mayfield.  The album showcases his songwriting chops, intelligent lyrics and psychedelic grooves which results in a sound that Performer Magazine describes as "an amalgamation of Beck and the Beach Boys at their best."
AM has toured with AIR, Charlotte Gainsbourg, Caetano Veloso, Bob Mould, Josh Rousse and more.  New Orleans highlights include shows at the House of Blues and a memorable performance on the Voodoo Festival main stage with The Flaming Lips and Duran Duran.  When not making music or touring, AM enjoys watching films (mostly from the 60's and 70's) and is an avid collector of rare 60's Brazilian music and Italian soundtracks.  You can find out more about AM on his website www.amsounds.com, www.itunes.com/am, or www.facebook.com/am.