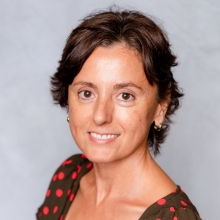 Linda A. Shkreli holds a doctorate degree in Communication Studies from Louisiana State University with an area focus in performance studies. Her current research interests include designing performance-based strategies for the writing classroom, interdisciplinary oral history applications, and the crossroads of artist-academic identities.
Her recent conference presentations include "Scripted Translations: Decoding the Essay through Mediated Design" for the 2020 Association for Theatre in Higher Education Virtual Conference; and "Louisiana Coastal and Cultural Preservation: An Oral History Perspective" for the 2019 Annual Louisiana Studies Conference. She is the author of the essay "Nature Mandalas: Performance Practice and Narrative Metaphor," and co-author of "FEMAture Evacuation: A Parade."
In addition to teaching writing and performance, she has trained, written, and performed for workshops and festivals in New Orleans, Chicago, Los Angeles, Honolulu, and Berlin. She is currently working on a photo-poetry collage inspired by psychogeography and the lyrical landscapes of New Orleans.
 
Degrees
B.A., Michigan State University; M.A., Eastern Michigan University; Ph.D., Louisiana State University
Classes Taught
Critical Reading and Writing
First-Year Composition
Memoir Writing
Expository Writing
Freshman Honors Colloquium: Metacognition
Performance of Literature
Performance, Language, and Cultural Studies
Rhetorical Discourse
Interpersonal Communication
Public Speaking
Areas of Expertise
Performance pedagogy, performance composition and devised theater, literary adaptation for the stage, creative nonfiction, writing across the curriculum