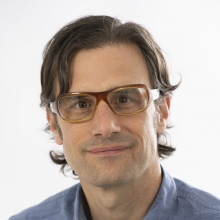 Christopher Schaberg is Dorothy Harrell Brown Distinguished Professor of English, and an affiliated faculty member in Loyola's Environment Program. His scholarly interests include contemporary literature, critical theory, mobility studies, and the environmental humanities. 
Dr. Schaberg is the author of four books on airports and air travel: The Textual Life of Airports: Reading the Culture of Flight (2012), The End of Airports (2015), and Airportness: The Nature of Flight (2017), and Grounded: Perpetual Flight . . . and Then the Pandemic (2020).
He is also the author of  The Work of Literature In An Age of Post-Truth (2018) and Searching for the Anthropocene: A Journey into the Environmental Humanities (2019).
Dr. Schaberg is founding co-editor (with Ian Bogost) of an essay and book series called Object Lessons which explores the hidden lives of ordinary things. This series offers hands-on opportunities for Loyola students who are interested in nonfiction writing as well as working in editing and publishing.
Degrees
Ph.D., University of California Davis; M.A., Montana State University-Bozeman; B.A., Hillsdale College
Classes Taught
Writing About Texts
20th-Century American Fiction
Reading Historically II
Apocalypticism in Contemporary Literature & Theory
Interpretive Approaches
Reading (w/) the Digital Human
"Thinking Space" (A First-Year Seminar)
Environmental Theory
Great Figures Seminar: David Foster Wallace
Contemporary Nonfiction 
Literature & Environment
"Interpreting Airports" (An Honors First-Year Seminar) 
Creative Nonfiction Workshop
Areas of Expertise
Airports & air travel, contemporary literature, critical theory, cultural studies, environmental humanities, creative nonfiction, editing & publishing.