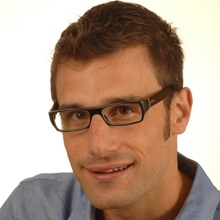 Christopher Schaberg received his Ph.D. from the University of California, Davis, where he specialized in twentieth-century American literature and critical theory.
At Loyola, Dr. Schaberg teaches courses on contemporary literature and nonfiction, cultural studies, and environmental theory. He also teaches a first-year seminar on airports in American literature and culture. He is the author of three books on airports: The Textual Life of Airports: Reading the Culture of Flight (2012), The End of Airports (2015), and Airportness: The Nature of Flight (2017). He has co-edited two essay collections: Deconstructing Brad Pitt (2014, with Robert Bennett) and Airplane Reading (2016, with Mark Yakich). He is currently completing a book called The Work of Literature In An Age of Post-Truth, which is about teaching, reading, and writing in the early twenty-first century.
Dr. Schaberg is founding co-editor (with Ian Bogost) of an essay and book series called Object Lessons which explores the hidden lives of ordinary things. This series offers hands-on opportunities for Loyola students who are interested in nonfiction writing as well as working in editing and publishing.
Degrees
Ph.D., University of California Davis; M.A., Montana State University-Bozeman; B.A., Hillsdale College
Classes Taught
Writing About Texts
20th-Century American Fiction
Reading Historically II
Apocalypticism in Contemporary Literature & Theory
Interpretive Approaches
Reading (w/) the Digital Human
"Thinking Space" (A First-Year Seminar)
Environmental Theory
Great Figures Seminar: David Foster Wallace
Contemporary Nonfiction 
Literature & Environment
"Interpreting Airports" (An Honors First-Year Seminar) 
Creative Nonfiction Workshop
Areas of Expertise
20th-Century Through Contemporary U.S. literature, Critical Theory