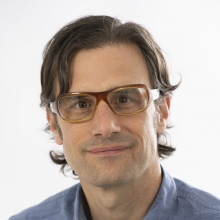 Christopher Schaberg is the founding co-editor of the book series Object Lessons, a public humanities venture that creates crossover publishing opportunities for a wide range of scholars and writers. The series is also one of the foundations of Loyola's Center for Editing and Publishing, which Schaberg co-directs. 
Schaberg's scholarship merges public humanities inquiry with environmental criticism. His wide-angle books The Work of Literature In An Age of Post-Truth (2018), and Pedagogy of the Depressed (2022) are concerned with the value and practice of humanities teaching on a damaged planet. Schaberg's 2019 Searching for the Anthropocene brings ecological questions to bear on far-flung aspects of contemporary culture. Fly-Fishing, publishing in March 2023 as part of Duke University Press's Practices series, blends memoir and ecocritcism to demystify the titular activity. 
A leading expert in the study of air travel, Schaberg has published four books on flight: The Textual Life of Airports: Reading the Culture of Flight (2012), The End of Airports (2015), Airportness: The Nature of Flight (2017), and Grounded: Perpetual Flight . . . and Then the Pandemic (2020). He also co-edited the nonfiction anthology Airplane Reading (2016), with Mark Yakich. 
Schaberg's writings appear frequently at public-facing venues such as The Atlantic, Los Angeles Review of Books, Slate, Sierra, Inside Higher Ed, and elsewhere.
His next book is called Adventure: An Argument for Limits. 
Dr. Schaberg is currently on leave from Loyola. He is now serving as the Director of the Program in Public Scholarship at Washington University in St. Louis. 
Degrees
Ph.D., University of California Davis; M.A., Montana State University-Bozeman; B.A., Hillsdale College
Classes Taught
20th-Century American Fiction
Literature and Environment
Environmental Theory
Interpreting Airports
Contemporary Nonfiction
Writing the Short Essay
Editing a Book Series
Areas of Expertise
Airports & air travel, contemporary literature, critical theory, cultural studies, environmental humanities, creative nonfiction, editing & publishing.