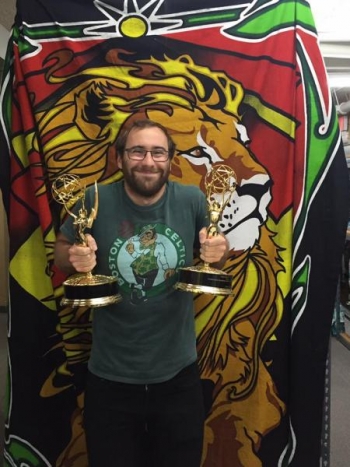 Loyola alumnus Peter Falanga '12 works for the Portlandia Art Department, which recently won its second Emmy Award for Outstanding Production Design. Falanga has worked on the show for the past four seasons and currently serves as the Art Department Coordinator.
"It's rewarding that I get to work with such a talented and wonderful group of people," Falanga said. "This show has provided an opportunity for many local craftspeople to express their talents to the world."
Falanga, a member of International Association of Theatrical Stage Employees (IATSE) Local 488, has worked on numerous films and TV shows since completing his graduate studies. Following his graduation from Loyola, where he majored in English with a concentration in film and digital media studies, he earned his Master of Arts degree in Critical Theory and Creative Research at the Pacific Northwest College of Art, located in Portland, Oregon. Since then, Falanga has balanced his time between working in Portland's film and television industry and presenting papers at academic conferences.
In 2014, he presented his paper "Woody Allen and the Return to Sincerity" as part of the "Humor: International Perspectives" panel at the Society for Cinema and Media Studies Annual Conference held in Seattle, Washington. His most recent paper, "Flow and Technics: The Sacralization of Life in Cinema," was presented at the Society for Literature, Science, and the Arts 28th Annual Conference held in October 2014 in Dallas.
Falanga is one of the coordinators of BCCTV, an artist-run video production collective based out of Bud Clark Commons and the Pacific Northwest College of Art, also located in Portland. BCCTV holds weekly workshops that are free and open to anyone who has or is currently experiencing homelessness and that focus on a participatory approach to film and video art.
"It's wonderful to see how artistic collaboration can develop such a strong community," Falanga said. "BCCTV fosters a sense of play and excitement with film that welcomes people to share their own unique stories and experiences through art."
As the Art Department Coordinator of the IFC television series Portlandia, a sketch-based comedy show about the lives of eccentric characters living in Portland, Falanga works closely with the Production Designer, Set Decorator, and the rest of the team to create and style sets that are colorful expressions of the city. One of the larger and more satisfying responsibilities of his role as Art Department Coordinator is working with local Portland businesses to integrate them into the show through the form of props or set dressing. Portlandia is in production for roughly five months out of the year and is scheduled to run for another season. The Portlandia Art Department has won the Emmy Award for Outstanding Production Design in both 2015 and 2016.
"It's exciting that I get to take part in a local arts collective, work on a comedy television show, and be able to maintain my academic research," Falanga said. "I am also thankful that through these various aspects of my life I can find ways to continue to engage with and pursue the values I learned at Loyola and experienced living in New Orleans."