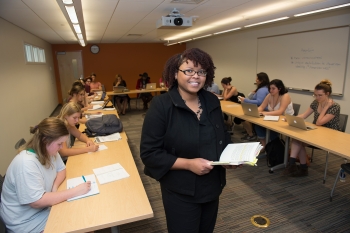 Dr. Trimiko Melancon, Associate Professor of English, African American Studies, and Women's Studies and Co-Director of the Women's Studies Program, was awarded the 2016 College Language Association Creative Scholarship Award for Unbought and Unbossed: Transgressive Black Women, Sexuality, and Representation.
Founded in 1937, the College Language Association is an organization of college teachers of English and foreign languages which serves the academic, scholarly and professional interests of its members and the collegiate communities it represents. The CLA Creative Scholarship Award is bestowed to a work of outstanding literary scholarship.
"Words really cannot encapsulate how profoundly honored and deeply ecstatic I am to be a recipient of this CLA book award. While it may have been an individual intellectual endeavor and labor of love, the journey was never isolated but, rather, marked at every step by enormous support, generosity, and intellectual love by kindred spirits too numerous to count," said Melancon. 
"Knowing that, as a recipient, I am following in the footsteps of previous winners like Thadious Davis, Trudier Harris, Joanne Gabbin, Frances Smith Foster, Houston Baker, and others is truly humbling. To be sure, it took a 'village' and it is that very village -- a host of family, friends, mentors, colleagues and the ancestors--that I thank dearly and unequivocally for every act of kindness and inspiration, every moment of support, and every gesture that made this possible," she said.
Dr. Melancon's teaching and scholarly interests lie primarily in African American and American literary and cultural studies; black feminist theories and criticism; critical race, gender, and sexuality studies; African American and Black German studies; and race, media, and digital/cultural production. 
In addition to authoring Unbought and Unbossed: Transgressive Black Women, Sexuality, and Representation (Temple University Press, 2014), she is also co-editor of Black Female Sexualities (Rutgers University Press, 2015). Her publications appear in leading journals in her interdisciplinary fields of expertise: African American Review, Callaloo, and the Journal of Popular Culture, as well as Reconstruction, among other venues. 
To learn more about her work, visit her website: www.trimikomelancon.com.