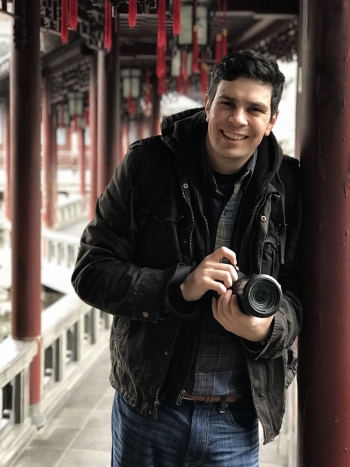 Department of English alumnus Kirby Voss graduated from Loyola University New Orleans in 2014 with a Bachelor of Arts in English with a concentration in Film and Digital Media. At 14, Kirby realized he wanted to be a director after watching the 1964 comedy Dr. Strangelove, and that passion for films and filmmaking has inspired him ever since.
Although Loyola's Digital Filmmaking program had yet to be implemented while he was here, Kirby found what he needed to pursue his passions in the English department. Kirby credits his former professor Dr. Mosier with introducing him to cinematic language in foreign films, something that today he believes all film lovers should experience. After graduating, Kirby became a founding member of the local non-profit COOL Cooperative, where he currently serves as executive director. COOL is an after-school program that functions as a way to expose inner city youth to filmmaking. The program runs Monday through Thursday for two hours a day and works to develop the soft and hard skills required to work in the film industry. The students are trained in various aspects of filmmaking including but not limited to set design, costume design, and lighting. COOL also provides weekend SAT tutoring and has a summer program. Through COOL, Kirby has been able to share his love of filmmaking by providing kids with a creative outlet while simultaneously teaching real-world skills.
COOL, along with Kirby, definitely have exciting and promising futures ahead of them. With currently 30 students participating in COOL, Kirby and his team intend to expand to two or three more schools in the area within the next two years and in five years are aiming to increase their number of students to 200. The organization is also open to the idea of collaborating with Loyola to create an interactive mentorship program between COOL's students and Loyola's English/Film and Digital Media and Digital Filmmaking students.
In addition to his work with COOL, Kirby has continued to pursue his passion for directing. He recently finished directing We All Think We're Special, his third feature film and is in the last stages of editing it. He hopes to release it in late spring 2020. While finishing We All Think We're Special, Kirby is also at work writing a new screenplay. He recently joined the Writers Guild of America (WGA).
The skills cultivated through an English degree are an asset and as Kirby has proven can be diversely applied. For Kirby the skills that are essential to writing a literary analysis are just like those imbedded in directing films. The Loyola community is proud of our alumni like Kirby and we could not agree more with his belief that "an English degree is one of the most efficient and effective ways to gain emotional intelligence, which in the digital age is needed now more than ever."