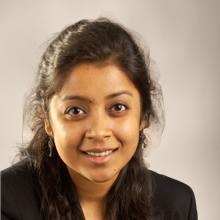 Dr. Jaita Talukdar is an associate professor in the department of sociology at Loyola University New Orleans. Her research explores the effects of social forces of gender, social class, culture, and globalization on body, bodily processes, and health. Some of her own research and book reviews have been accepted for publication in journals such as Qualitative Sociology, Sociological Focus, Women's Studies International Forum, and the American Journal of Sociology. Her most recent research investigating socio-cultural factors associated with the growing popularity of biotechnological sciences of the body in contemporary Indian society has been published in the Routledge Handbook of Science, Technology, and Society (2014). At present, she is investigating how new upcoming gyms in the city of Kolkata, India are shaping perceptions and ideas of a fit and healthy body among urban Indians.  At Loyola, she teaches courses on introductory sociology, gender, body, and health.
Dr. Talukdar has received her Ph.D. from the University of Cincinnati, Ohio; her M.A. from University of Calcutta, India; and her B.A. from Presidency College, Calcutta, India.
Degrees
Ph.D., University of Cinncinati, 2008; M.A., University of Calcutta, India, 2001; B.A., Presidency College in Calcutta, India, 1998
Classes Taught
Introductory Sociology
Gender, Body, and Health
Sociology of Gender
Body, Society, and Health
Global Sociology
Men and Women of India
Cultural Anthropology
Areas of Expertise
Sociology of gender, culture, globalization, body, health and food.