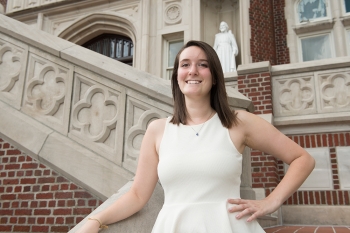 Recent graduate Molly Alper '14 was awarded one of this year's Fulbright Fellowships. 
Alper, who graduated with a bachelor's degree in Sociology and Spanish, will travel to South America to do research on human trafficking, an issue she has been studying since her freshman year at Loyola. She has worked on campus as a member of Loyola's chapter of Free the Slaves, a student organization working to raise awareness of and combat slavery and human trafficking. She also interned with Loyola's Modern Slavery Research Project, a program working to address the issue of human trafficking in New Orleans, the U.S. and abroad.
"I plan to research how governments and nonprofits can improve social services for victims of human trafficking," Alper said. "More specifically, I will be interviewing trafficking survivors about the reintegration process and how we can improve long-term services so that victims do not have to return to that life. I am looking forward to building a relationship between human trafficking organizations in the U.S. and South America. I also am looking forward to doing some hiking throughout Argentina."