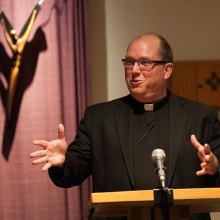 Fr. Mark Mossa, S.J. is known for his interdisciplinary approach to ministry, writing and teaching. His areas of concentration in the field of Religious Studies include the history of Christianity and the Catholic Church, Theological and Philosophical Ethics, Spirituality (most especially Ignatian Spirituality), and Pastoral Ministry (especially ministry to young adults). He also has an abiding interest in how all these intersect with his avocations and other areas of study, including popular culture, film and television, literature, philosophy, and American history. He has previously taught at the University of Detroit Mercy, Spring Hill College, Fordham University, and the University of South Carolina. His connection with Loyola began nearly 30 years ago, when he served as a facilitator for the Loyola Institute for Ministry's Extension Program (LIMEX) prior to entering the Society of Jesus in 1997. He also taught in
Loyola's Philosophy department from 2003-2005. He is the author of Saint Ignatius Loyola: The Spiritual Writings, Already There: Letting God Find You, co-author of Just War, Lasting Peace: What Christian Traditions Can Teach Us, and essays and articles that have appeared in a variety of collections and publications. He holds a License in Sacred Theology from Boston College, an M. Div. from Weston Jesuit School of Theology, an M.A. in Philosophy from Fordham University, and an M.A. in English Literature from the University of South Carolina. Among his major
influences are Jesus Christ, Saint Peter Faber, Pope Francis, Baz Luhrmann, Buffy the Vampire Slayer, and Ted Lasso.
He is currently collaborating with colleagues from other Jesuit universities on a new volume of An Ignatian Spirituality Reader and is tinkering with what he hopes will be a book-length reflection on practical Christian virtues, inspired by Pope Francis' call to a "revolution of tenderness."
Degrees
License in Sacred Theology, Boston College; M. Div., Weston Jesuit School of Theology; M.A., Philosophy, Fordham University; M.A., English Literature, University of South Carolina