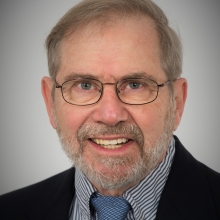 Edward Vacek, S.J., holds a License in Sacred Theology from Loyola University of Chicago, and a Doctorate in Philosophy from Northwestern University. He came to Weston Jesuit School of Theology in 1981, which in 2008 became the Boston College School of Theology and Ministry.  He currently holds the Stephen Duffy Chair in Systematic Theology at Loyola University New Orleans.
He has contributed over sixty articles to various popular and scholarly journals and books, and he is the author of the book entitled Love, Human and Divine. He has given numerous talks to popular and professional audiences.
He teaches moral theology, with special interests in emotions and ethical theory, as well as sexual, business, and biomedical ethics.
Recent Publications
Vacek, Edward. "Grace is the Emotion of Love of God," Journal of Moral Theology vol.4 (2015), 63-88.
Vacek, Edward. An Evolving Christian Morality: Eppur si muove, in From Teilhard to Omega: Co-Creating an Unfinished Universe, ed. Ilia Delio, O.S.F. (Maryknoll, NY: Orbis, 2014) 152-65.
Vacek, Edward. Orthodoxy Requires Orthopathy: Emotions in Theology, Horizons 40 (2013) 218-41.
Vacek, Edward. Discernment within a Mutual Love relationship with God: A New Theological Foundation. Theological Studies 74 (September 2013) 683-710.
"Problematic Love for God," Festschrift for Gene Outka (New Haven: Yale, 2012), 35 pages.
Classes Taught
Christian Ethics
Christian Love
Christian Theologies