What we do?
We have weekly meetings on Tuesdays at 4:15 where often one of our members would present on a particular cosmology topic or would go through a derivation, lecture style. We also discuss progress on the various research projects that are going on in the group. We typically meet at the physics reading room or at MO 251. If you want to know a little bit about our universe you are welcome to join us for a session, send us an email  at rmayes@loyno.edu or just drop by.
Here is a list of recent research papers and presentations by our group members.
Members
Tirthabir Biswas
As head of the group my job is to motivate and guide the students in one of the most amazing human endeavors: trying to figure out how the universe that we find ourselves in got to be the way it is? How did it all unfold? What will happen to it in a few billion years? It is a rather exciting field right now because new and more refined cosmological data is constantly coming through from the satellites, balloon based experiments as well as the traditional ground based telescopes.  If you are interested in joining the adventure, you need to have taken the first two semesters of calculus and introductory physics courses. I will probably start you off with a reading course where you will learn the cosmology basics. You will get to meet the senior students in the group, and you can learn a lot from them, it's also a lot more fun that way.
For a list of projects that me and my students are currently engaged in, visit here. If you get engaged in research with me, you will obviously learn a lot about our universe, but perhaps more importantly you will get a taste of what research in theoretical physics entails, how to develop and verify your physical intuition, what are some of the general physical principles/ideas/techniques that working physicists use to solve a problem. You will also acquire mathematical and computer skills that lets you analyze a problem, and learn how to extract meaningful information from your exercizes. Previously, I have also had pre-engineering students who are interested in engaging in such exercises. So, if you want to join the band, drop by my office or talk to one of the other students in the group.
William Duhe
Loyola University senior William John-Pierre Duhe' was invited to present his research on developing cyclic models of the early universe conducted at Loyola University with Prof. Tirthabir Biswas at the International Conference of Physics Students 2012 (ICPS) in Utrecht, the Netherlands, from August 4th to the 10th. The picture shows Duhe with William George Unruh who described the hypothetical Urnrah Effect in 1976. The research was conducted in conjunction with Professor Tirthabir Biswas of the Loyola Physics Department. The abstract details the content of the lecture: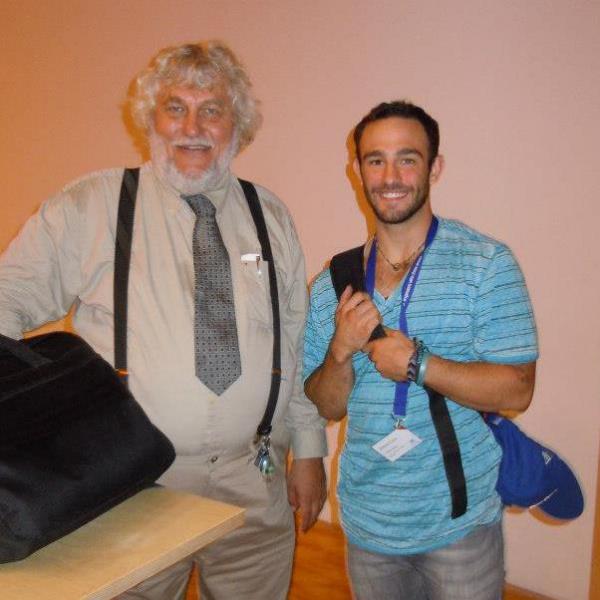 Duhe with Bill Unruh of the "Unruh Effect"
Title: "Cyclic Inflation: Numerical Tests"
A unique way of realizing inflation has been proposed recently in the context of cyclic cosmology where the universe grows by a constant factor in each cycle. This leads to an overall exponential growth over many cycles. In a given cycle such a growth is possible if, for instance, "heavy particles" can decay into radiation (photons) leading to an increase in entropy. However, to sustain this mechanism over successive cycles, it is crucial to reproduce the heavy particles back through quantum scattering processes and re-establish thermal equilibrium between all the species. We numerically study whether this is possible.
Riley Mayes
"My name is Riley Mayes, and I am current undergraduate student at Loyola University New Orleans. Furthermore, I am a research student with Dr. Biswas, and I am planning to pursue a graduate degree in physics. My interests in Physics include astrophysics, cosmology, high-energy particle physics, and nuclear physics. 
My current research at Loyola University deals with analyzing the CMB (Cosmic Microwave Background Radiation), and looking at cyclic inflation using a program called COSMOMC. As I progress through later stages of my research, I hope to learn more about Cosmology, and solve some outstanding problems have cosmologists stumped."
Richard Bustos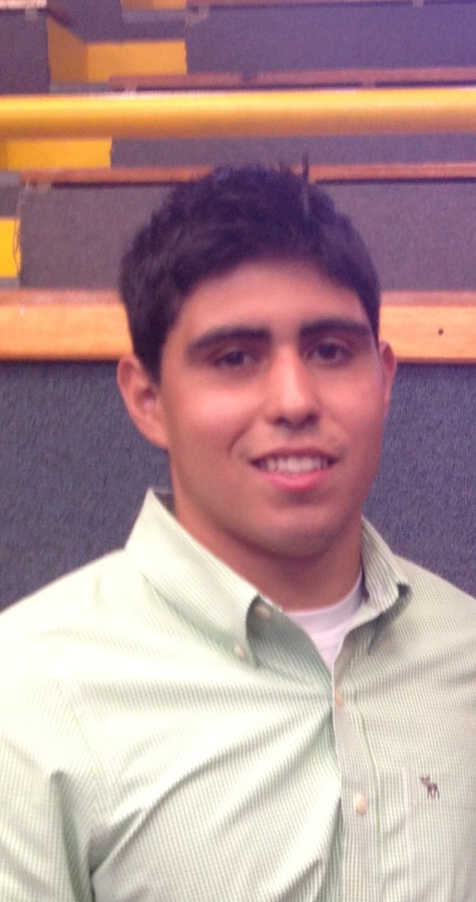 "My name is Richard Bustos. I'm a transfer student from Scranton, PA. I am currently an undergraduate physics major at Loyola University, working with Dr. Biswas on an independent studies course in cosmology. Physics changed my way of thinking about the natural world, I find everything in physics very fascinating from the basic particles to the cosmos of the universe.  In this group study with Dr. Biswas and my fellow classmates I plan to get a better understanding of the cyclic universe model, CMB, gravity, and much more. I plan to pursue my own research for one of the topics mentioned in the next year. I look forward to learning as much as I can from this program."
Past members
Colleen Lattyak
Kingsley Hansen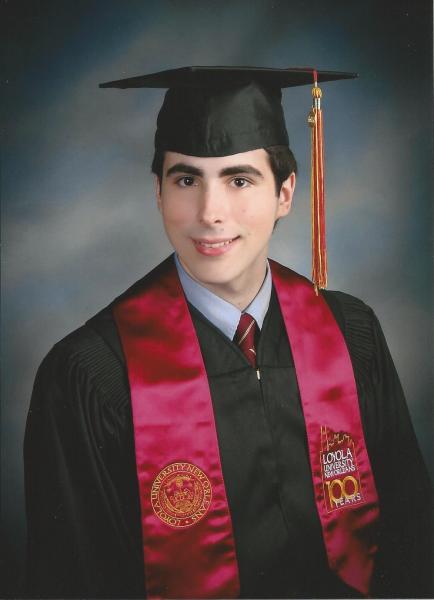 "I am Kingsley Hansen. I graduated from Jesuit High School in New Orleans in 2008. I attended Loyola University New Orleans for a Bachelor Degree in Physics and graduated in 2012. After graduating, I began working under Dr. Tirthabir Biswas for Research in Cosmological Physics. I use a program called Mathematica to create models and graphs which represent our current universe's behavior, and also theoretical works that would describe future behavior. Cosmology provides a scientific approach to understanding our universe and life itself. After our research is complete, I will be attending the University of New Orleans for a Master's Degree in Civil Engineering."
Resources and Forums
Publish your research in Astrophysics
http://astrobites.com/about/undergraduate-research-abstract-submission/