The Physics Department at Loyola University is pleased to announce the addition of the Biophysics Pre-Health degree program. The degree program will begin in Fall 2017.
---
The Biophysics Pre-Health major is created to better fit students who have a strong interest in physics and mathematics but who envision careers in health professions, as well as medical physics (non-MD), biophysics, and biomedical engineering. The introduction of the Biophysics Pre-Health major replaces the previous Pre-Health major offered by our department. The new major creates a better focused program rooted in faculty research expertise in areas of physics such as cellular biophysics and biomechanics while also creating a more flexible program for students.
Specifically, the changes in the degree program reduce the number of required core physics courses by allowing students to take either Electromagnetism or Quantum Physics, but not requiring both. Students will be asked to take specific Advanced Physics Elective courses (two of the three courses designated as biophysics APE), as well as one additional advanced course from Biology, Chemistry or Physics. Depending on the students' preferences or career plans they may choose advanced Cell Biology, Molecular Genetics, Biochemistry. This degree of flexibility will allow the students to create a curriculum better suited to their career plans. Whether it is a medical school, a graduate school in biophysics, an engineering program in biomedical engineering, etc., or entering the workforce directly after graduation, the students will be able to modify the proportion of biology/chemistry/physics courses in their curriculum to some degree.
Below is a comparison table showing the changes made from the Physics Pre-Health degree program to the new Biophysics Pre-Health degree program.
Loyola Core Courses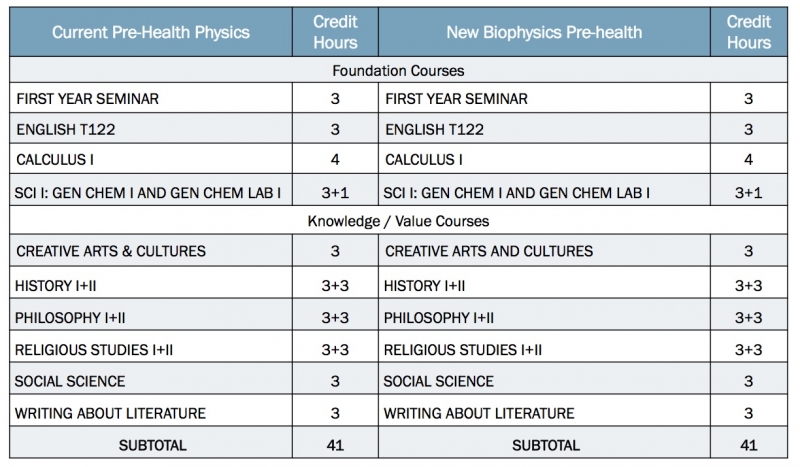 Major Courses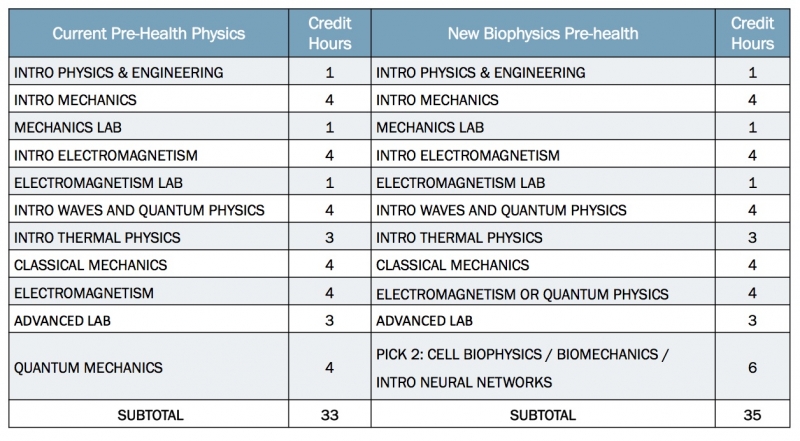 Adjunct Courses

General Elective Courses

Summary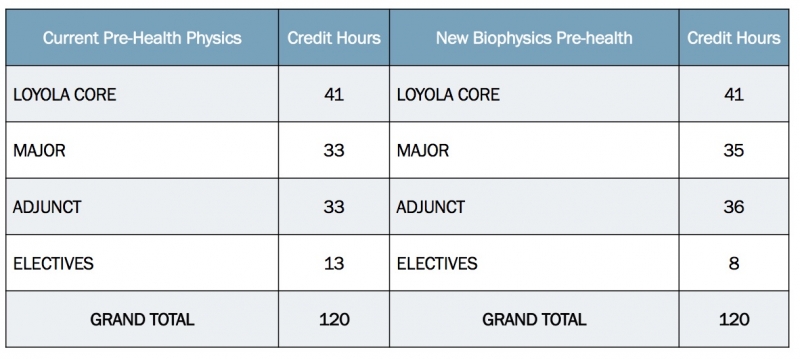 *The Biophysics Pre-Health degree will be added to the university bulletin for Fall 2017.
For those interested, selecting the current Pre-Health major will automatically enroll you in the Biophysics Pre-Health major in the Fall 2017 Semester