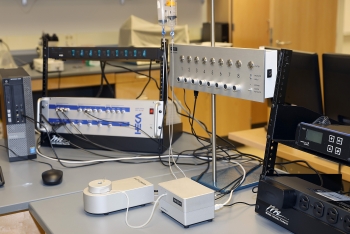 Dr. Kargol's innovative use of Port-a-Patch technology for teaching undergraduate students ion channel electrophysiology was recently featured in the Nanion newsletter.
Port-a-Patch is a newly-acquired instrument in Dr. Kargol's lab, which represents the newest trend in ion channel electrophysiology – automated patch-clamping systems. Such devices have been developed mostly to increase throughput in electrophysiological studies in large industrial labs. In Dr. Kargol's lab the Port-a-Patch, which eliminates very long training periods for the operators, is used to train undergraduate students, especially students in pre-health majors. When the Port-a-Patch was installed in the lab in October 2016, undergraduate students that trained on manual patch-clamp rigs for months were able to successfully record whole-cell ionic currents after only a few hours of training. Another important aspect is that the Port-a-Patch uses the same HEKA Patchmaster software that has been in use in Dr. Kargol's lab. That made the transition to the new equipment much easier. Undergraduate researchers are already beginning to work on specific research questions. This is a very exciting time for Loyola biophysics students.
The Port-a-Patch has been purchased with funds from the LA Board of Regents Suport Fund Enhancement subprogram granted to Dr. Kargol and Dr. Mix for the acquisition of two instruments for their labs (grant #LEQSF(2016-17)-ENH-UG-09).