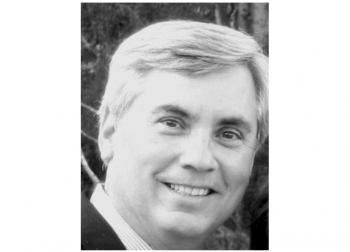 Alumnus Kerry P. Redmann, Phys '78
Kerry Redmann attended Jesuit High School in New Orleans. He enjoyed his classes in mathematics and physics there, and was inspired to learn "how things work" from his teachers. His uncle Jerome Redmann, a 1950's Loyola University Physics graduate, and Father James Carter, S.J., then President of Loyola and a member of Physics Department, were very encouraging that he continue his education in physics.  Thus, upon his graduation from Jesuit in 1972, he decided to pursue a degree in physics at Loyola.
After four years at Loyola, Kerry finished his coursework in May of 1976, and he began working as a sales manager for Donelon Building Services. His desire for more technical challenges soon led him to a job in the oil industry with MAP Drilling Company. By 1978 Kerry had earned his Physics degree from Loyola, and in 1979 he began work on his Master's degree in Petroleum Engineering at Louisiana State University, while still working for MAP. During this time Kerry became very adept around the drilling, completion, and maintenance of oil wells. In May 1982 he was awarded the Master's degree and he had already begun work a few months prior with Standard Oil of California's Chevron Company as a drilling engineer.
Kerry received a tremendous amount of training and experience with what became the Chevron Corporation. Chevron allowed him to manage drilling operations on every type of rig in use, and he worked across the country and around the world managing oil and gas wells. He also completed the requirements to be registered as a Professional Engineer in Petroleum Engineering by the State of Louisiana, and was awarded Professional Engineer's License #22701 in January of 1987.  
He was promoted by Chevron, eventually becoming the Senior Drilling Advisor for the central Gulf of Mexico, and he designed, installed, and managed Chevron's first horizontal oil well there.
After fifteen years with Chevron it was time to move on to other challenges, and Kerry worked for a number of smaller oil industry companies who needed his engineering expertise.  Kerry continued to enjoy all of the challenges with the coming of new technology. Eventually, one of these smaller companies he worked for was sold to ExxonMobil, and so in 2015 Kerry started his own petroleum engineering consulting firm.
He continues to delight in the many challenges provided by the petroleum industry, especially in well work, and has also enjoyed acting as a petroleum engineering expert witness in some state and federal court cases. Kerry credits his education in physics, especially its problem-solving side, for helping him to be successful in engineering.  Kerry has spent forty-four years working in petroleum engineering, and in his words – "It's been a ball!"