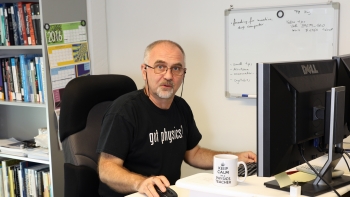 Dr. Armin Kargol, Professor of Physics and the Chair of the Physics Department, has received the 2018 University Senate Award for Excellence in Teaching. In nomination letters his colleagues and students wrote:
"Dr. Kargol does not just provide the current facts of the subject he is teaching. Rather, he guides his students in a constant course of inquiry, which leads to the discovery of new topics."
"Armin has long seen as a key element of student engagement and learning the integration of research and teaching. He has launched numerous initiatives that brought students (often first-year students) into the research lab. Likewise, he has worked to get faculty research into the classroom."
"Dr. Kargol taught me about more than just physics. He is both politically and socially aware and takes time to assure his students consider these important issues."
Dr. Kargol was also recognized for his teaching in 2015 when he received the College of Humanities and Natural Sciences Excellence in Teaching award.