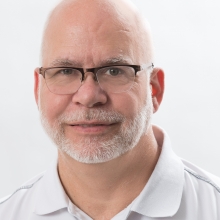 Andrew Wolfe spent three decades building software products and applications before bringing that experience to higher education.  He has developed and applied cybersecurity principles and techniques since working on Defense intelligence systems in the 1980's.  Wolfe was also database architect on several projects, including the Oracle Configurator which was a Gartner Magic Quadrant™ product during while he worked on it. Wolfe has worked with major commercial and open-source database management systems in Windows, Linux, and other environments.  Andrew Wolfe's academic career began part-time in the late 2000's, teaching a graduate course on database security for Boston University Metropolitan College.  BU appointed him as permanent faculty in 2016, then in 2018 he joined Loyola as Visiting Assistant Professor.  Professor Wolfe developed Loyola's Cybersecurity degree program, which officially starts Fall 2020.
Recent Publications
"Don't Be Afraid To Commit: Experiences Using GitHub Classroom for Teaching CS." Presented at 14th Annual International Conference on Computer Science and Education in Computer Science 2018 (CSECS 2018), June 29 to June 30, 2018, Boston, Massachusetts.
"The Curious Case of the Bank Without a Vault," regarding security deficiencies in web-based database applications. Presented at DataModelingZone, October 2017.
'Bridge Courses': Empowering Students to Succeed in Graduate IT Courses," with Anatoly Temkin, PhD. Presented at the 13th Annual International Conference On Computer Science And Education In Computer Science 2017 (CSECS 2017), June 30th to July 3rd, 2016, Albena, Bulgaria
"One Big Database Loser: How Second-Millennium Coding Plagues Third-Millennium Apps." Presented at Cisco national security conference, November 2016.
"What a Concept! Is Logical Data Modeling Obsolete?" Vertabelo Corporation technical weblog, http://www.vertabelo.com/blog/technical-articles/what-a-concept-is-logical-data-modeling-obsolete. July 2016.
Degrees
Bachelor of Arts, Engineering and Applied Sciences, Harvard University, 1983; Master of Science in Computer Science, Boston University, 2005
Classes Taught
COSC A211 - Introduction to Programming 1
COSC A208 - Information Systems Theory and Practice
COSC A270 - Introduction to Relational Databases
COSC A294 - Introduction to Cybersecurity
COSC A451 - Software Engineering
Areas of Expertise
Cybersecurity
Data modeling and database implementation
software architecture