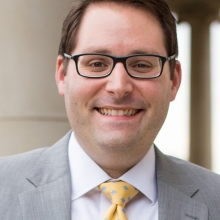 Scott Sternberg is a Partner in Sternberg, Naccari & White, LLC, a New Orleans law firm. Scott focuses on media and business litigation, and serves as General Counsel to the Louisiana Press Association.  Scott has represented countless blogs, newspapers, students, candidates, citizens, and other public interest organizations in First Amendment, access, and other strategic matters.  He has authored legislation and testified before numerous committees of the Louisiana Legislature, as well as several articles in the fields of constitutional law, media law and legal ethics. 
Sternberg received his law degree cum laude from Louisiana State University's Paul M. Hebert Law Center, where he was named a member of the Louisiana Law Review, selected for the Moot Court Board and elected Student Bar Association President.  Scott also received his B.A. in Journalism from LSU's Manship School of Mass Communication, where he served as Editor-in-Chief of LSU's award-winning campus newspaper, The Daily Reveille. 
Degrees
J.D. Louisiana State Univ.; B.A. Louisiana State Univ.